Pupils from the Cathedral School of St Saviour and St Mary Overie performed a play about the human kidney at Guy's Hospital Chapel on Friday.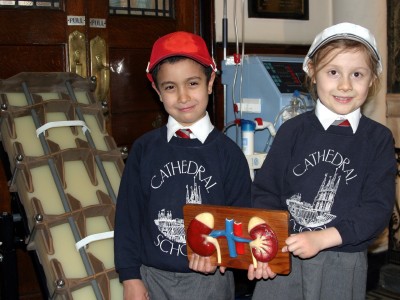 Orla and Adam with a 70s Kiil dialyser, modern hollow fibre dialyser and human kidney. (Photo: Elisabeth Blanchet)
The play was staged to celebrate National Science Week and has been funded by a grant of £1,260 from Guy's and St Thomas' Charity.
The 27 six-year-olds wore red or white baseball caps to represent red and white blood cells and demonstrate how a kidney works on a set constructed out of church pews to look like a giant nephron – the functional unit of the kidney that filters and cleans the blood.
A modern dialysis machine and older, larger artificial kidney from the 70s were provided by Guy's Hospital so that the audience and school class could see the progress being made in dialysis services, and compare the artificial kidney to a model of the human kidney, kindly provided by The Gordon Museum.
The play was performed in memory of Alec Schwartz, a campaigner for the Guy's and St Thomas' Kidney Patients' Association.
"Projects like these are an education for everyone," says organiser David Leaback, director of Biolink. "The children learn while having fun and teach adults in the audience as they watch. Acting and getting involved can be so much more effective than a plain textbook."