Neal's Yard Remedies and their Therapy Room at Borough Market offer a variety of relaxing massages with a plethora of sensual oils and personable staff.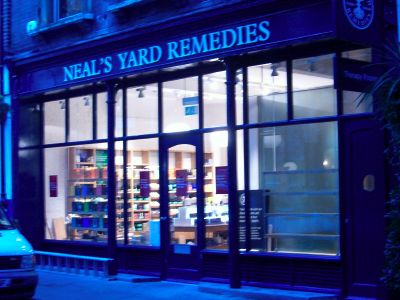 Neal's Yard Remedies sell essential oils and herbal sundries as well as homeopathic remedies, tinctures and many other complementary medicines. Above the salesroom and up some stairs is a small therapy room where cushions, mellow music, and the smell of varying herbs and oils await you. Eager to make you as comfortable as possible, the masseuse brings you into the room, informs you on what you are about to experience, and allows you to take as long as you need to get comfortable in the new space.
What I decided to experience was the Indian Head Massage, which is designed to work the muscles in the head, neck, arms, and upper back. For all of those who do not like to disrobe in front of strangers, this massage might not be for you because it is drastically less effective with one's shirt on. For thirty minutes, the masseuse rubbed calming oils into my skin and worked the knots out of my shoulders and arms.
Not being one who is use to massages or being slightly unclothed in front of others, it took me almost the entire massage to get use this new situation. While most of the massage was very pleasant, there were parts that seemed slightly peculiar to me, such as the giving of healing energy from my masseuse by waving her hands over my body.
One must also be prepared to walk out with oil soaked skin and smelling strongly of jasmine and lavender. To complete the massage you are offered a glass of water to wash out the toxins in your body and a small sample of the oils used during the massage for your later use. Overall, the Indian Head Massage was a pleasant if sometimes unusual experience.
Neal's Yard Remedies and their therapy room offer a very pleasant atmosphere, extremely accommodating staff eager to please, and a huge variety of oils and other products for your beauty and health. With a long list of services for the therapy room, there is bound to be one that fits your needs. If you believe a massage is what you need to release your stress, Neal's Yard Remedies is a lovely place to have one.
• Neal's Yard Remedies, 4 Bedale Street; T 020 7940 1414