Shared Experience shows every life during the Second World War as seen in art from Australia, Canada and Britain.

Eric Ravilious: HMS Ark Royal in action, 1940; © Imperial War Museum, LD284
The exhibition, now at the
Imperial War Museum
, began its tour at the newly opened Canadian War Museum in Ottawa last year to mark the 60th anniversary of the Second World War's conclusion. In the autumn it was at the Australian War Memorial in Canberra and so far it has been viewed by 200,000 people.
In this first exhibition of its kind there are famous pictures and little known works from the the three 'war' museums including own our IWM.
Included are are views of war-hit London and not all come from the IWM. Most striking is Duncan Grant's St Paul's which shows the distant dome from the vantage point of the bombed Queen Victoria Street in front of St Nicholas Cole Abbey. Today the church, today found near the north end of the Millennium Bridge, is being restored as an education centre. Grant saw it in 1941 when, despite the blitz, its golden statue of St Nicholas had survived above the gate.
Flight from reason depicts bomb damage opposite the Temple Church just south off Fleet Street. The artist is Australian Stella Bowen who had left her home country almost thirty years earlier. Before the end of the war she became an official war artist travelling with Australian crews of Bomber Command.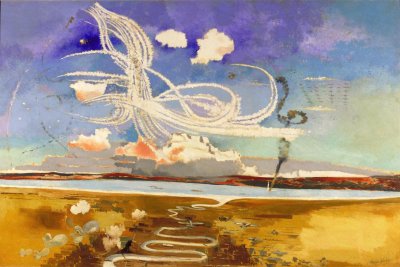 Paul Nash: Battle of Britain, 1941; © Imperial War Museum, LD1550
Paul Nash tries to give a sense of aerial battle over a wide area, with smoke trails in the air and a winding river below, in his huge Battle of Britain which confronts the visitor at the exhibition entrance.
From Australia there is war artist Colin Colahan's Waterloo Station showing a foggy scene under the concourse clock where a man in RAF uniform says farewell.
Beautifully lit is Dame Laura Knight's Ruby Loftus screwing a Beech-ring. This is one of many showing women at work and Canadian Mollie Lamb Bobak reminds us of the multi-racial involvement with a striking Private Roy, Canadian Women's Army Corps.
The show offers a reminder of the huge Commonwealth commitment to Britain during our desperate years.
• Shared Experience: Art & War is at the Imperial War Museum 10am-6pm until 25 June; admission free.
• The catalogue which reproduces every picture is available at the IWM or by mail order 01223 499345; £16.