Shoppers in Lower Marsh this weekend were greeted by the unexpected sight of 20 tube carriages being lifted through the air onto low loaders in Baylis Road.
As we reported
last September
, the Waterloo and City line is to close for the next five months for a major upgrade of the track, stations and equipment.
Whilst the line is closed the 20 carriages that make up the five trains which operate on the line will be taken to Doncaster for refurbishment and repainting. The carriages, which have not seen light of day since 1993, have been likened to pit ponies.
The Waterloo and City line doesn't have a rail connection to any other part of the network, so the only way of getting carriages and heavy equipment into and out of the Waterloo depot is via a shaft on Spur Road, to the side of the
Waterloo Action Centre
.
The carriages still bear the Network SouthEast livery, as the line was part of British Rail until it was transferred to London Underground in 1994 during a pre-privatisation shakeup. They will be repainted in standard LU livery during their visit to Doncaster.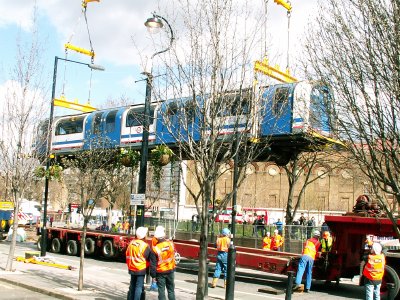 A brand new battery-powered locomotive in Baylis Road
In addition to the removal of the 20 carriages, which will take all weekend, four new battery-powered locomotives were lowered down the shaft to haul materials and equipment along the line during the closure.
Tube infrastructure company Metronet had an exhibition bus parked on
Lower Marsh
to provide shoppers and locals with details of the planned works.
From the archive
The current rolling stock has been in use on the line since 1993, the last time a similar spectacle was seen in Baylis Road.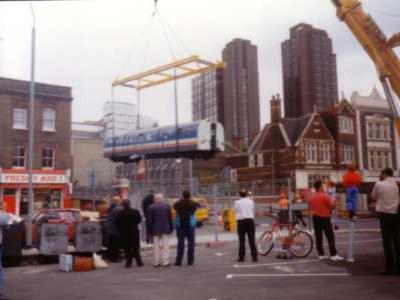 1993

1993
The class 487 trains which ran on the Waterloo and City line between 1940 and 1993 were taken by road to Glasgow for scrap.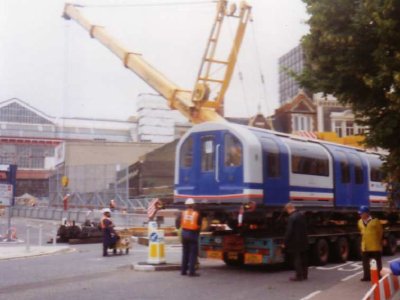 1993

1993