Streetwise Productions is back on Bankside with a new fast-moving production called Shakespeare and Co.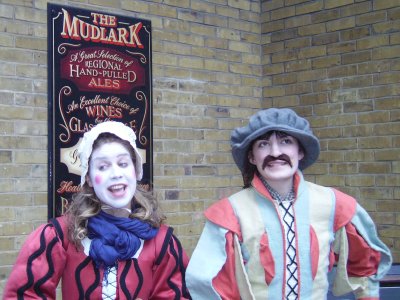 Helen Herman (Mildew) and and Vanessa Hammick (Sinclair)
This is Shakespeare on the move for, although the performance starts at the Mudlark pub behind
Southwark Cathedral
, the audience is required to walk to five locations. The walk is in 17th-century London so the crowd is reminded to turn mobiles off as they won't work. The view from the riverside is of London Bridge crowded with houses.
Between banter and confessions of love and crossdressing, three actresses perform snatches of Julius Caesar, a Midsummer Night's Dream, Hamlet and Romeo and Juliet. The Golden Hinde is the backdrop for The Tempest.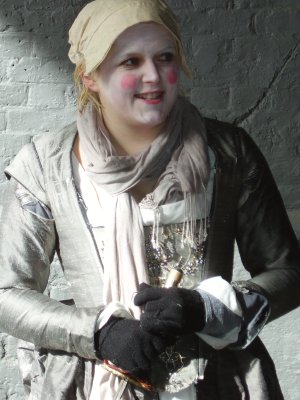 Amy Coates (Christobel)
The 'guides' are Mildew (Helen Herman in her second season), Sinclair (Vanessa Hammick) and Christobel (Amy Coates). All are very versatile, happy to fall on the road whatever the weather and show huge staminer.
This show, which deserves to succeed, is an impressive contribution to Bankside's growing arts programme.
• Shakespeare & Co is at The Mudlark in Montague Close on Saturday 8 and Sunday 9 April and Saturday 15 and Easter Sunday 16 April at 3pm: £7 (conc £6). Booking on 020 77404 1150 or at the door.
• Streetwise Live
• Last year Streetwise Live presented A Midsummer Night's Drink on Bankside.