With less than a month to go until Southwark and Lambeth go to the polls to decide who will run the boroughs for the next four years, the campaign is hotting up.
Both boroughs are currently under no overall control; Southwark run by a minority Liberal Democrat administration, and Lambeth with a coalition of Lib Dems and Conservatives.
Southwark's three main parties have all staged events with guest appearances from prominent national figures to rally the troops for the month-long campaign.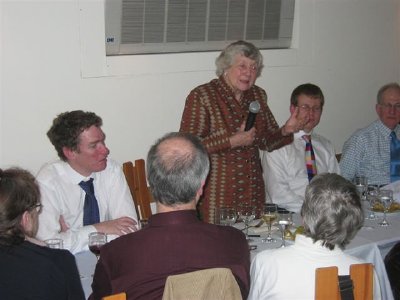 Baroness Williams addresses Lib Dem activists
Southwark Liberal Democrats staged their launch at Tas in
Borough High Street
last week. Guest of honour was Baroness Williams. She told activists: "This election will give voters in Southwark the chance to show Tony Blair and the Labour Party that they cannot continue to take people for granted. Southwark Liberal Democrats have made huge improvements and I hope residents give the Lib Dems the mandate to carry on this good work."
MP Simon Hughes added: "We have a lot to be proud of in Southwark and I have no doubt that in May Southwark residents will reward my colleagues in the council for their hard work."


Southwark Labour candidates pose outside the Town Hall
Meanwhile on Monday Southwark's Labour group, looking to regain control of the council after four years in opposition, staged a launch party in Camberwell on Monday with guest speaker Lord Falconer, the Lord Chancellor and secretary of state for Constitutional Affairs.
Southwark Labour leader Cllr Peter John said: "Labour's manifesto is a plan for real change in Southwark. After four years of Lib Dem inaction, [our] manifesto gives local people the chance to elect a Labour council which will take action to rid our streets of anti-social behaviour, which will keep Council Tax low and treat all residents with respect."
North Southwark and Bermondsey Conservatives received a morale-boosting visit from new MP and former journalist Michael Gove, who addressed members at a social event at the Southwark Rooms in Southwark Street.
Lambeth council leader and Lib Dem councillor for Bishop's ward Peter Truesdale defended his administration's record: "In May 2002 we inherited a failing council from Labour after 31 years of their misrule. Lambeth owed £875 million, and even though the Council Tax had just gone up by 9.3%, Labour managed to leave a £28 million hole in the budget. Since then we've made considerable progress turning Lambeth into a functioning organisation."
Lambeth Labour Party launched their manifesto with the help of cabinet minister David Milliband. Lambeth Labour leader Cllr Steve Reed said: "Our proposals are a positive agenda for change. Labour's top priority is to make Lambeth safer. But we will also root out the waste and fraud that the Liberals have allowed to flourish and we'll reinvest that money to improve services for everyone.
"That's how we can guarantee better schools, cleaner streets, a greener environment, more support for young and old, and a fairer council tax."