A new music education project based at St George the Martyr in Borough High Street aims to help young people to enjoy music.

St George the Martyr seen before its closure for restoration
The City, Lambeth & Southwark Music Trust plans a series of projects which will enable young people in the three boroughs to study music within the National Curriculum.
There will be opportunities to view and play the Father Smith organ dating from 1682 as well as play other instruments, sing and study for A level music examination.
David Adkins, director of music at St George's, will be playing a major role.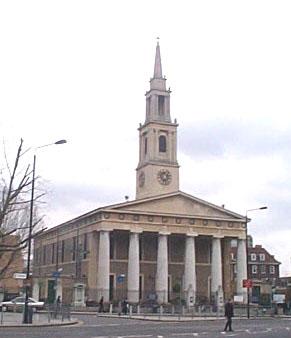 St John's church in Waterloo Road
Initially tuition will take place either at St George's or St John's Waterloo. Lessons are to be available at no cost to the pupils and trustees are seeking funds and donations.
St George's is due to reopen next year after a major restoration programme.

Andrew Cox, chair of governors at London Nautical School in Stamford Street, is chairman of the new trust. Other trustees include Dr Andrew Parmley, director of music at St James Garlickhythe; The Ven Michael Ipgrave, Archdeacon of Southwark; Michael Sherlock, chair of governors at the City of London School for Boys and a member of the City's Court of Common Council; David Wilson, Foreman of Southwark's Guildable Manor and Hilary Wines, former Mayor of Southwark.
• The Trust Secretary is Ken Hayes who can be contacted at The City, Lambeth & Southwark Music Trust, St Alphege, King's Bench Street, London SE1 0QX.