Temperatures are forecast to drop to -5C in Potters Fields this summer, with the world's largest ice attraction due to open on 1 May.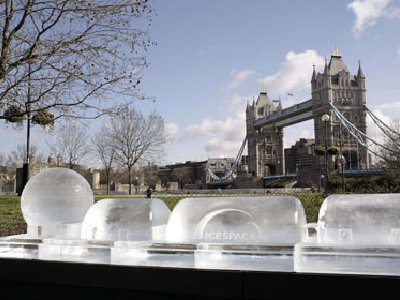 IceSpace is being built on the derelict coach park site next to Tower Bridge.
It will take over a month to build the 300ft long, 70ft high structure which will weigh more than 200 tonnes, equivalent to 200,000 litres of water.
The world's leading ice sculptors have been engaged to create IceSpace.
IceSpace will have ambient areas and chilled areas of -3 to -5 degrees C.
The experience is expected to attract 300 visitors through its doors every hour; it will also hold up to 500 people for parties and evening events.
On entering the IceSpace Projection Pod, visitors will be greeted with an audio visual presentation in the 70ft high Stratosphere before collecting specially designed coats from the cloakroom areas to enter a world made of ice.

In the Ice Art Gallery visitors will be able to admire contemporary ice creations by leading artists. There will also be live themed performances by mime artists and contortionists.
At the far end of the gallery will be a large stage where visitors will be able to watch activities and displays including live ice sculpting.
Visitors can even sit down to enjoy food and drink in the lounge area which includes a bar, or step outside to a smoothie bar and 'Chill 'n' Grill'. They will also be able to watch ice performances and displays on the outdoor ice rink and extreme sports displays on specific dates.
IceSpace will be open to the public throughout May and June until 11pm each night.
Tickets cost:


                          IceSpace (1hr)        Ice Rink
         Adults            GBP21            GBP12.50
         Child             GBP15             GBP8.50
    Seniors/Students       GBP17              GBP10
      Family (2+2)         GBP69              GBP39

Tickets can be
purchased online
from Ticketmaster.