Southwark's Labour leader Cllr Peter John talks to us about tall buildings, lapdancing, Elephant regeneration and Dr Ola.
Southwark Labour Party has launched its bid to regain control of the borough after four years of a minority Liberal Democrat administration.
If Labour take power in Southwark, barrister Peter John, councillor for South Camberwell, will be at the helm of the council for the next four years.
How does Cllr John, himself elected for the first time in 2002, answer critics who say that returning Labour to power would be a step backwards?
"First and foremost, the personnel have changed," says Cllr John. "I think the ruling Labour group after May 4th will be something in the region of 80 per cent new members as compared to pre-2002. That's a major change in the personalities who make up the group, so it's not 'back to the old regime' in that way.
"Secondly, we have changed as a party across the borough. I don't say that it's been good that we've been in opposition but it has given us an opportunity to see what the people's priorities are and how we can take them forward.
"And also I think it's quite instructive sometimes to see somebody else running things, so that you can say 'this is what we would be doing differently, this is how we would make a change'. I think it also helps the electorate see that some of the things that you were doing as a Labour administration weren't that bad after all."
Lib Dems have taken Cathedrals ward for granted
What message does Cllr John have for previous Labour voters who may have become disillusioned with the party at a national level? "I think you've got to look at who are going to be the most effective representatives for your area, who's going to work hardest for you. And I think that there's a strong argument that the Lib Dems have taken parts of the borough for granted.
"I think particularly of Cathedrals ward where really they've had no effective representation for 12 months at least, for a variety of reasons: Catriona Moore standing down, Danny McCarthy's ill health and Mark Pursey just losing interest in the whole council set-up for two years in fact.
"Why would [Cathedrals ward residents] think that the Lib Dems are representing their area well? And particularly one of the areas that's so important to the future development and regeneration of the borough."
Joined-up government
"We've all had difficulties, I guess, with some of the things that have happened nationally and internationally with the Government, but I still think it makes far more sense in terms of joined-up government for there to be a Labour Government, a Labour Mayor and a Labour council for Southwark; I think that's the way that we will really benefit.
"I can't see that there's any benefit to Southwark in having a council which takes oppositionalist stands and enters into slanging matches with the Government or the Mayor over certain issues.
"This Lib Dem council will not, for example, name and shame those who have been made subject to Asbos, simply on political grounds, and I don't think that is helpful."
Taking a stand on tall buildings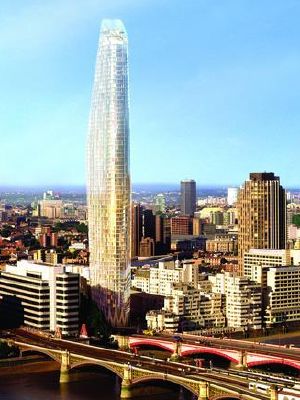 Beetham: "an exciting development"
Asked about the issue of tall buildings – and the Lib Dems' rejection of a document proposing to designate Blackfriars Road as a skyscraper zone – he makes no secret of his own support for high rise development.
"I'm not sure that I'm in favour of designating an area for tall buildings if that means that the planning department's hands are tied in terms of dealing with individual applications, but I have no objections in principle to there being tall buildings in that part of the borough; I think in particular the Beetham tower [proposed for 1 Blackfriars Road] is an exciting development. It will be an asset to the borough, and I think that will be an appropriate location for it.
"I think one of the good things about Southwark over the last 10 years or so – particularly in the north of the borough – it feels much more as if you are in central London.
"And being in central London means you get exciting new development, and I think if that involves tall buildings I do welcome it, so long as it's appropriate to the area and it's not going to be a complete eyesore."
Cllr John says that he has "a degree of sympathy" for those who are unhappy about the propspect of living in the shadow of skyscrapers, but "if you live in the middle of London, as they do ... and if you live right on the river, you've got a lot going for you, and you've got to expect that development will come".
"As I understand it, there is general support for the Beetham tower in particular in the local area. There's certainly not rabid opposition to it."
"There are people who will be opposed to tall buildings as a matter of course. I'm not one of those, and I think that if the development is right, then we should welcome it if it's appropriate."
On the Beetham tower, he adds: "It's not as if this is some poor building that's going to go up there, it's a building that will bring presitge to the borough. I think it's got quite a lot going for it and at the moment I'm supportive of it as a scheme. I would welcome it."
Small businesses at the Elephant and Castle
Ken Livingstone caused a stir last year when he called for the Commission for Racial Equality to investigate the regeneration of the Elephant and Castle. How would a Labour administration address the fears of traders at the Elephant and Castle who don't think that their businesses will survive the major regeneration?
"You've got to start listening to what they're actually saying. They're being asked to carry on trading in an area which the council is emptying of residents and they're being told that you've got to trade through till this place is knocked down. I just don't think that's realistic.
"The council should be using its clout to try to secure them some alternative to that pretty bleak prospect.
"Is the council doing enough on that front? I think it probably isn't.
"[The businesses] are seeing their profits slump to the point where there are no profits and they just can't carry on trading for seven, ten years ... they don't feel they're getting enough support on that front and they're particularly critical of Cathy Bowman who has responsibility for the whole Elephant scheme."
Lapdancing, licencing and Lib Dems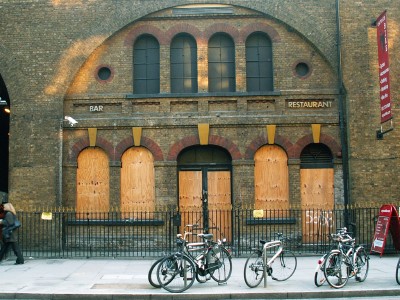 The proposed premises for the controversial Rembrandt club
The prospect of a lapdancing club in Tooley Street has been a hot topic in recent weeks, with the Mayor of London funding a legal challenge against Southwark Council by the Dean of Southwark.
Mr Livingstone says that Southwark Council need not have granted a licence to the club, but the Lib Dem adminstration insists that its hands are tied by the new licensing laws. How would a Labour-run Southwark Council approach this issue?
"Well I think you look at what your licensing policy is, and I think that's where the Mayor is critical of Southwark; the Lib Dems' licensing policy is pretty much a free-for-all, and I think you can build in safeguards which they have not. Your hands are not completely tied in terms of you you deal with applications and whether applications are appropriate for certain areas."
"It's what I regard as one of those typical Lib Dem fob-offs – 'oh well it's all down to the Government, we can't do anything about it' – well you can do something about it, because you can have your own licensing guidance and policy which doesn't mean that you have to have this sort of development. I think that's something that we'd have to look at – if we're entitled to legally – as an incoming Labour administration.
Does he back Ken Livingstone's stance? "Absolutely. If the Mayor is having to do some of the work of the local Lib Dem councillors for them, I welcome and applaud it."
Localism and community participation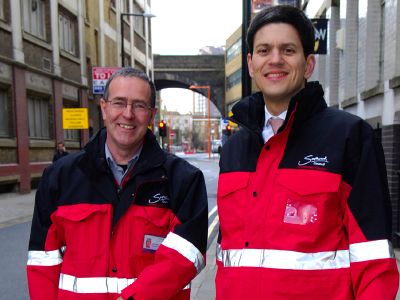 David Miliband (right) on a recent visit to Union Street
The Government's minister of communities David Miliband has been vocal on the subject of localism, calling on councils to give voluntary groups longer contracts.
In Southwark, groups such as the Bankside Residents' Forum have found their funding at risk due to changes in council rules. How would Labour tackle this?
"I'd like to see something in place to provide some longer-term funding," he says, suggesting the Southwark Alliance as a possible vehicle for such funding.
Cllr John is critical of the Community Councils introduced in Southwark by the Lib Dems, pointing out that they engage with "a very, very limited part of the Community only. It's the same faces, 20 or 30 representatives of the community as a whole."
On the broader localism agenda, he says: "I'm not absolutely at one with the Government on everything it does in terms of local representation, because it does seem at times that they're trying to reinvent councillors, when we've got councillors already who are supposed to be the democratic elected representatives of an area as opposed to people who are not elected and are not answerable and not accountable.
He points out that the Southwark Alliance "distributes and makes decisions about a lot more money than I as an opposition councillor make decisions about".
"I'm not sure that David Miliband has ever had experience of being a councillor and in local government but I'm sure he's learning as he's going along and he has some interesting ideas that will provoke a good and interesting debate about localism."
Antisocial behaviour: "a clear dividing line"
On this website we asked you to tell us about the local issues which mattered most to you. Antisocial behaviour was mentioned by many respondents. How will Labour address residents' concerns?
"There is clearly a dividing line between Labour and the Lib Dems on this issue and how we deal with it. The leader of the council is on record as saying that he doesn't like Antisocial Behaviour Orders, he still will not use the full range of powers which the Government has made available.
Cllr John describes the 'naming and shaming' of Asbo recipients as "an important weapon to protect communities".
"The sooner that the message gets across to people who indulge in low-level antisocial behaviour that it is not acceptable and the council will not tolerate it and the community won't tolerate it, the sooner we will eradicate it. I really do think that the Lib Dems' approach to this topic has been half-hearted."
Dr Ola and accusations of Lib Dem racism
This week Chaucer ward councillor Dr Abdur-Rahman Olayiwola (aka Dr Ola), deselected by the Lib Dems, announced that he is fighting the seat as an independent and has accused his former colleagues of racism.
"I do think that they have some serious issues dealing with black and minority ethnic residents in the borough," says Cllr John.
"It's a shame that Dr Ola has left it so late to speak out on these issues. I think if he had done so before we went into the election period he would have had a bit more credibility. But I still welcome the fact that he has spoken out now.
"He's not the only one to have said it; Jonathan Hunt, also deselected as a Liberal Democrat councillor, has stood up and raised these issues over the past four years consistently. And Lord Ouseley has criticised the Lib Dems as the council in his report and subsequently in the Evening Standard, and when you've got so many people saying the same thing, shouldn't alarm bells be ringing? Shouldn't people be wondering what on earth is going on in Southwark Lib Dems?"
Alluding to Dr Ola's controversial comments about homosexuality, Cllr John adds: "I don't agree with everything he has to say, but even so I find it fascinating what he has said."

---
• Next week we'll be talking to Lib Dem leader
Nick Stanton
.