An open international competition has been launched for a transportable mobile meeting and performance space which will come to the South Bank in 2008.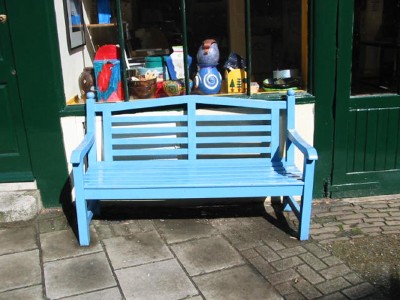 The Architecture Foundation/Lift New Parliament competition: Meeting place?
Performance space?
Lift (
London International Festival of Theatre
) and the
Architecture Foundation
are launching an open international competition to design the Lift New Parliament, a transportable meeting and performance space, which will open at the Lift Festival in June 2008.
The Lift New Parliament will provide a new concept in meeting and performance space with interactive digital capacity. Opening as part of the 2008 Lift Festival in East London, it will move to the South Bank Centre during the festival and will then travel nationally and internationally, hosting a programme of performances, debates, ceremonies and installations.
"I believe that the Lift New Parliament is one of the most innovative and important cultural developments for London in the coming decade," says South Bank artistic director Jude Kelly.
The competition for the design and fit-out of the £400,000 project is open to (but not limited to) architects, designers, artists, product designers, portable space designers and/or any other disciplines. Design teams are invited to suggest inspiring and innovative yet realistic designs for this temporary and flexible structure. This is not an ideas competition.
Given the importance of engineering in the project, Lift and The Architecture Foundation encourage entrants to work in teams of designers and engineers.
The competition will be open to entries from 8 May until 12 noon on 16 June 2006.


Competition judge Steve Tompkins (right) with Jude Law and Helen McCrory at the topping out of the Young Vic last year
Entries will be judged anonymously by a panel including Angharad Wynne-Jones, director of Lift; Rowan Moore, director of the
Architecture Foundation
; Steve Tompkins, director of Haworth Tompkins; Eric Reynolds, founding director of Urban Space Management; Sophia de Sousa, The Glass-House; Roma Patel, scenographer and digital artist.
A shortlist of 4 design teams will be announced in June and awarded £1,500 to prepare for interview. The public will be invited to contribute to the selection of the final design by voting online for one of the four shortlisted entries. The winning team will be announced in July.
The brief can be downloaded from 8 May from the Architecture Foundation website.