South Bank Centre chief executive Michael Lynch was among the guests at a controversial City Hall lunch for Venezuelan president Hugo Chavez.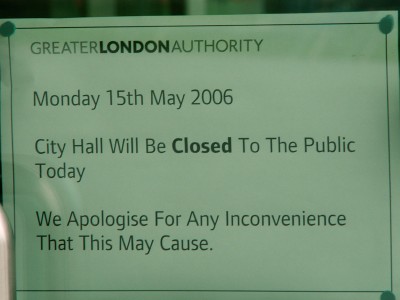 City Hall
was closed to the public on Monday as part of an enhanced level of security for the president's visit.
However opposition politicians complained that all meetings between GLA staff and external organisations were cancelled without warning.
Tory Brian Coleman, chairman of the London Assembly, said: "It is important for the Mayor to take heed of security advice on restricting access to City Hall. However, it is both outrageous and incompetent that the Mayor should disrupt the business of London's government by barring all external meetings, without so much as a by your leave or even the common decency of reasonable advance notice."
The news came after leader of the London Assembly Conservatives Bob Neill refused to attend the lunch with President Chavez and instead invited Venezuelan refugees to City Hall.
The meeting between Neill and the refugees was due to start at 9am, however City Hall security officers refused to admit the dissidents.
Bob Neill said: "Ken Livingstone says that part of the purpose of this visit was to learn from the 'Venezuelan experience' particularly in the field of 'democratic participation'; it seems that he has already learned a few tricks!"
Speaking ahead of the president's visit, Ken Livingstone said: "President Chavez is a beacon of democracy and social progress in Latin America. Since 1998 he has won 10 elections in 8 years – an unprecedented record of electoral success in any country. He has won this electoral popularity because, among other measures, he has introduced the first effective health service into Venezuela, commenced a huge literacy programme, and is paying for 250,000 people to have eye operations to cure them of blindness – a record any politician would be proud of."