Art dealer Laura Biddlecombe is facing the challenge of a lifetime as she gears up to cycle two stages of the Tour de France from Vitre to Lorient in Brittany.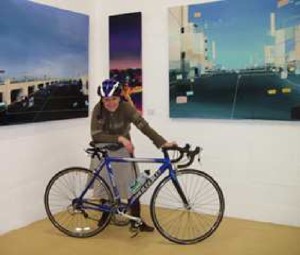 Laura, 33, who says that her usual form of exercise is moving paintings around her studio just off Union Street, will next month jump on her bike to cycle 171 miles to raise money for a charity set up in memory of a family friend.
"I can't remember when I last sat on a bike before this," says Laura. "The last time I got any serious exercise was in PE lessons at school and that was 16 years ago! Now I'm getting up every day at 6am to go for a cycle ride before work."
Laura says that her favourite hobby is food. One of the reasons she loves working in SE1 is being so near Borough Market. Unfortunately since starting her training for the bike ride her colleagues at Full Circle Art Consultancy have banned her from leaving work on Friday lunchtimes: "I've had to knock the outing to the market on the head. Life isn't much fun at the moment!"


The hard work is all in aid of the William Wates Memorial Trust. William was a family friend of Laura's who was killed in 1996 while travelling in South America.
The trust was set up to celebrate his life by trying to shine some light into the lives of young people who have not had the advantages that Will enjoyed. Its particular focus is sport, arts and education in London and the South East and it will look to invest in sustainable projects where possible. The trust is particularly keen to train and assist local people who are contributing to their communities.
One of the charity's most recent donations was to support Oval House in Kennington which develops programmes to provide a safe space for young people to play, explore, learn and develop as responsible citizens. Oval House has a long history of using participatory drama to stimulate meaningful debate and empower young people to take responsibility in their lives.
"This is an amazing project. I have lived and worked in South London for several years. I wanted to support my friend and finding that William's charity is supporting local people seemed a perfect balance. I hope local companies and other people in the area will sponsor me if they can," said Laura. "Even a few pounds will make a huge difference and mean The William Wates Memorial Trust can continue their invaluable work supporting young people."
• Sponsor Laura at www.justgiving.com/laurabiddlecombe