This to This is an intelligent, thoughtful play, produced by London Ensemble, which features careful attention to casting and many fine performances.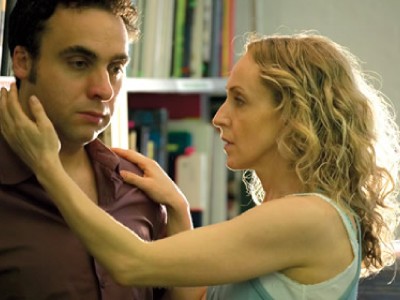 Drew (Scott Ainslie) Jen (Jackie Kane). Photo Courtesy of Simon Annand
It's also a play that isn't afraid to take chances by including potentially unpopular subject matter, as well as some touching moments of pathos within the context of its storyline.
Jen and Drew have been married for an undisclosed period of time, but whatever the duration of their union, it appears to be floundering. Drew's eyes are wandering and Jen is fit to be tied – taking care of her rapidly deteriorating mother, who lives with them. At work Drew's boss, Phil is on his back and the grass is looking decidedly greener under his co-worker Rachel's feet.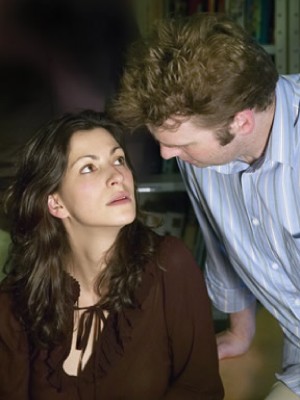 Rachel (Melanie Gray) Phil (Simon Anderson). Photo courtesy of Simon Annand
The author of this strongly focused play, Jackie Kane, portrays Jen, a women doggedly taking care of her mother, Peggy, who is too far too gone to take care of herself, played with poignant wordlessness by Rosalie Jorda. Jen's husband, Drew, in an extremely likeable performance by Scott Ainslie, isn't sure how to handle this situation; the only thing he's sure of is that it's affecting his marriage and his life for the worse. At the office, he regularly casts his eyes in the direction of delectable Rachel, knowingly played by Melanie Gray, only to come to the somewhat belated realisation that he needs to take a closer look at himself. Their boss Phil, convincingly played by Simon Anderson, has a heart to heart talk with him that has little to do with that particular part of the anatomy. Seems the man in charge feels out of control around Rachel, despite the fact that his canny wife Nicky, well played by Chandrika Cheveli, is carrying their third child. The situation is a bit like a dog, chasing his tail. Where will it end?
Perhaps one of the best things about This to This is that none of these situations end as you think they will. Additionally, the play itself, as well as its finely-tuned, layered performances are rife with unexpected subtext. And frankly, it's refreshing to watch a production that deals with some of life's reoccurring issues that aren't typically dealt with in the theatre: how to deal with a loved one with incurable illness, why some of the laws and subsequent penalties levied in this country are still 'Dickensian,' and why a person might be better off leaving a relationship if they don't know where they stand in it.
London Ensemble productions and director Robert Wolstenholme deserve full marks for bringing Jackie Kane's sensitive play to the Union Theatre. Hopefully, potential theatregoers will have enough savvy to go to this cozy venue, also, one of Bankside's most reputable, to see this fine production, sensibly avoiding those performances across London, which aim to be 'cutting edge,' whilst missing the point. With This to This, it isn't so much a matter of an apt moment or two, as it is an engagingly recognisable view of a variety of human scenarios, with their varying measures of laughter and pain. As Jackie Kane's character Jen rather philosophically claims, 'This is real life.'
• Union Theatre until 17 June