A programme to link local students to potential employers has been launched by Southwark Education Business Alliance.
The Central London Employment and Enterprise Renewal programme, to be known as CLEER, is funded by the London Development Agency and Cross River Partnership. The target is for thirty Southwark young people, in the 15-19 age range, to be given extended work placements during 2006 and 2007.
The announcement was made by Arthur Hayward of Southwark EBA during a seminar organised by Better Bankside's Corporate Social Responsibility Group at Lloyds TSB headquarters on Bankside.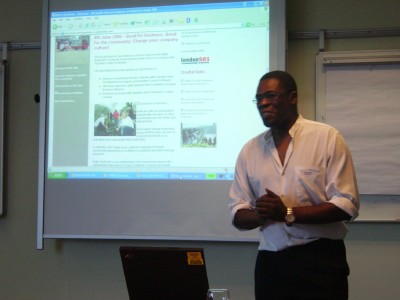 Earlier Lloyds TSB's Mike Clarke, who chairs the CSR group, welcomed Bankside business representatives to the seminar on volunteering. Andrew Caldwell of Volunteer Centre Southwark and Lindsey Nash from PricewaterhouseCoopers spoke about local volunteering successes.
This year Better Bankside is offering three of its member businesses the opportunity to take part in a 'Team Challenge' with a local community organisation at half the usual price.
Later, at a networking reception, Bankside business representatives were able to enjoy panoramic views across the river and Borough.