SE1 residents have until next year to take advantage of the Eurostar link from Waterloo. Enjoy it while it lasts and head to the Loire Valley for culture, cuisine, chic and futuristic fun.
If you're a Francophile and fancy hopping across, under or over the Channel for your hols, Lindsey Stock has a small taster of the charms awaiting you in and around the Loire valley and finds a range of activities for children and adults – and something for Da Vinci devotees too!
Futuroscope for fun
Forget life-size cartoon characters and burgers – thrills and spills are brought up to date at the Parc du Futuroscope, a theme park near Poitiers with something for everyone, including gourmet food, a good selection of wines, cash points and even somewhere to park your dog!
Futuroscope specialises in virtual reality, and there's a range of options to make your visit enjoyable, including more than 20 attractions and shows, on-site accommodation and a wide range of places to eat.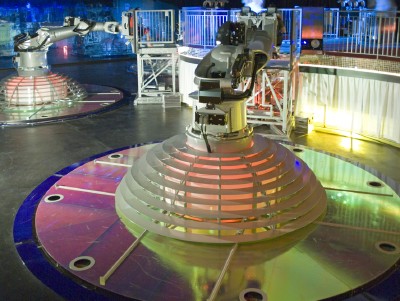 Robotics take centre stage in 2006 with three new attractions. including Dances with Robots (Danse avec les Robots), a staggering ride that daredevils won't be able to resist again and again (you can have a go as many times as you like in one day). For the fainter hearted, there are less stomach-churning choices, and the spectacular laser and light evening show in the middle of their stunning lake is a must-see.
Getting in
Futuroscope entry for one whole day (including evening show) costs 31 euros (around £21) adults and 24 euros (around £16) children aged 5-16; two days costs 59 euros and 44 euros; evening entry only 15 euros and 10 euros. There is no charge for the under fives.
Special offer
Futuroscope is offering a 2 euro discount on park entry per person for London SE1 community website viewers. Download your money-off coupon, print out one for each person and claim your discount on entry to the park. The website has lots of information about the park, including a brochure download.


Leonardo on the Loire
You've read the book perhaps, seen the film maybe, and are possibly eagerly awaiting the forthcoming V&A exhibition, Leonardo da Vinci: Experience, Experiment and Design. Yes, Da Vinci fever is everywhere'Ķand one venue that's more fact than fiction is at the 12th century Ch√Ęteau Clos du Luc√© in the pretty Loire town of Ambroise. Da Vinci spent the last three years of his life here and the Chateau has on display full-scale models of his inventions, inside the chateau and scattered around the delightful gardens. His bones are buried in the area, too, in the chapel of the nearby Chateau d'Ambroise, with its rich historical past and set high above the town, with spectacular views of the River Loire.
Getting there
By rail
The French TGV system is efficient and extensive and both Ambroise and Futuroscope have stations nearby. It takes around 5 hours to get to Futuroscope – use Eurostar to Paris or Lille and switch to the TGV network there. Futuroscope is also near to Poitiers (prices from London to Futuroscope start at £79 per person return). More information from Rail Europe.
By sea
If you want to take your car, the SeaFrance Dover-Calais ferry is a good place to start. And Sea France is offering London SE1 website viewers 10% off fares on their ferries (travelling before 31 December 2006). To claim your discount use the following links (the promotional code will already be in place): Click here to book a long stay ticket or click here to book a short stay ticket (maximum stay 120 hours).
Book and pay by 31 July 2006. Offer only valid on each way fares and not valid on Day Return, 24 hour Return, Day of Departure, Open Return or Carnet fares. Discount available online for new vehicle bookings only. For use on SeaFrance fares at time of bookings and not in conjunction with any other offers. All travel must be taken and completed by 31 December 2006. Standard SeaFrance Terms & Conditions apply. Click here for details.

By air
Poitiers-Biard airport is 10 minutes away from Futuroscope by taxi.

• Words and photos by Lindsey Stock