City of London Police, rarely deployed on the south bank, were drafted into Southwark to protect sheep in the Cathedral churchyard from animal rights protesters.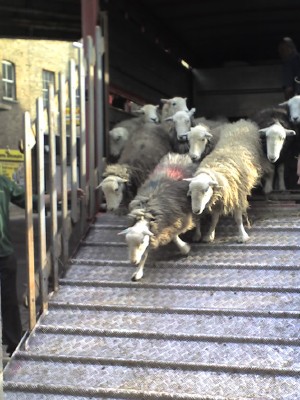 The sheep arriving at Southwark Cathedral on Friday evening. Picture by Jorge Guerrero.

The Bishop of Southwark, the Rt Revd Tom Butler, with Farmer Andrew Sharp

Animal rights demonstrators outside Southwark Cathedral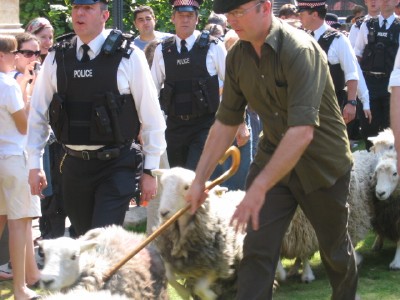 There was a heavy police presence. Picture by Paul Jack.

Picture by Terry Wood

Richard Rogers and Renzo Piano wearing Biennale souvenir "Trust me, I'm an architect" T-shirts. Picture by Jo Dubiel.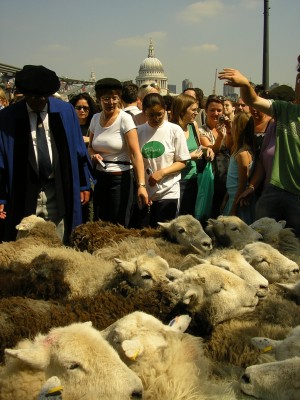 Picture by Jo Dubiel

Picture by Andrea Dahlberg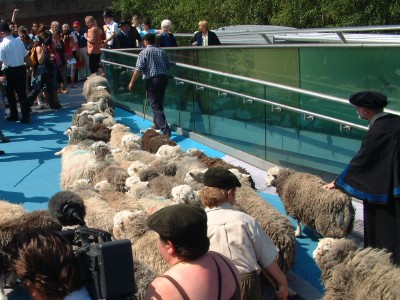 Picture by John Davidson

Picture by John Davidson
The churchyard had been transformed into a farmyard with water and straw for a herd of sheep provided by farmer Andrew Sharp who trades in the adjoining
Borough Market
. The animals were accompanied by robed members of the Butchers' Company exercising their right to drive sheep across the City of London's bridges. For the first time the drive was over the
Millennium Bridge
to mark the launch of the London Architecture Biennale at
Southwark Cathedral
.
However, the appearance of the Bishop of Southwark was met with a hail of loud protests. Police and shepherds struggled to make a passage for the sheep as camera crews were jostled by the huge crowd. Progress along the river was slower than expected and there was a further delay outside Tate Modern as Police attempted to clear the Millennium Bridge.
The herd was eventually penned in Smithfield as one of the attractions at a recreation of Bartholomew Fair which was immortalised by Ben Jonson in his play Bartholomew Fair premiered at the Hope Theatre on Bankside in 1614.

Red Arrows flypast

The Red Arrows staged a flypast over central London to mark the Queen's official birthday. Picture by Andrea Dahlberg.