Tselane's Song and Gogo are two children's plays from the South African Company Vulavulani and the Action Transport Company.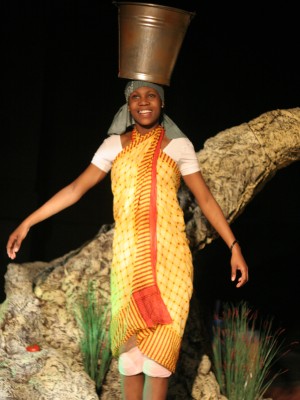 The first, returning to the Unicorn for the third time, stars a cheeky monkey who helps village children outwit the mighty thunder god, Godumodumo.
The well-paced narrative was supported by wonderful African songs, dancing, and drumming. Taking younger children to the theatre can be difficult, as few plays manage to engage both children and adults. Tselane's Song is an exception. Not too long to have children squirming in the seats (one hour), and in a beautiful yet intimate theatre, it was a perfect family outing.
Gogo was aimed at a slightly older audience (7 plus), and told the story of 2 Soweto children sent by their uncle to stay with their grandmother, or Gogo, in a small village. Though set in Africa, it was a situation London raised children found easy to understand. Whilst the bickering between brother and sister was eerily familiar.

Gogo is patient and allows the children their rebellion. In time they come to recognise and value her wisdom. Naomi Cortes was very believable as Gogo, whilst Sizwe Mazibuko, playing a dog, cow and monkey, delighted the audience.
The junior reviewers who accompanied me agree that both plays are well worth seeing. A special tip is to sit near the front during Tselane's Song, as you might be offered one of Gogo's cakes. Delicious!