The demolition of the Heygate estate moved a step closer this week with the appointment of architects to design six replacement housing schemes.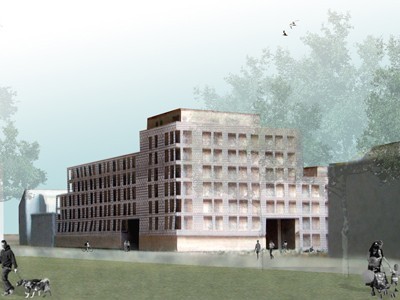 Harper Road: Haworth Tompkins
The 1960s estate will be demolished in 2010 as part of the £1.5 billion regeneration of the Elephant and Castle.
In April 2005 sixteen small to medium sized architectural practices were shortlisted to form a competition panel to bid for fourteen housing sites as they become ready.
Last week architects pitched designs for the first six sites to a panel of council officers, Heygate residents and the council's housing association partners, Family, Affinity, London and Quadrant, Guinness Trust and Wandle.

Leroy Street: Featherstone Associates
The successful architects are:


• Metaphorm Architecture and Design: Brandon Street
• Sarah Wigglesworth Architects: Prospect House
• Featherstone Associates: Leroy Street
• KMK Architects: Pocock Street
• Haworth Tompkins Architects: Harper Road
• Loates Taylor Shannon Architects: Welsford Street

Many of the architects have previously worked on schemes in the area; Sarah Wigglesworth Architects transformed the former Charlotte Sharman School annexe into the Siobhan Davies Studios and Haworth Tompkins has designed both the new Young Vic theatre and the Stamford Street neighbourhood centre.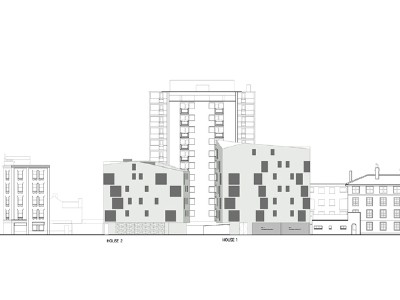 Pocock Street: KMK Architects
At the same time a demonstration housing scheme in Wansey Street SE17 – adjacent to the Heygate – is nearing completion. Heygate residents viewed the scheme for the first time this week. Designed by award winning architects de Rijke Marsh Morgan and managed by Southern Housing Group, the site was completed ahead of the main programme.
"Wansey Street is a fantastic example of the quality we can achieve in new housing," enthuses Cllr Richard Thomas, executive member for regeneration. "As we move into the the main phase of new building at the Elephant it gives us great confidence in the high standards we are able to deliver for Heygate residents."

Prospect House: Sarah Wigglesworth Architects
"The near completion of this first housing site is a sign of the council's determination to deliver the new homes local people deserve."
"There is a real sense of energy and enthusiasm around the project, and the housing association partners that we have selected are bringing an absolute commitment to maintaining this high standard across all of the forthcoming early housing developments at the Elephant.'"
Elephant and Castle development director Chris Horn added:
"...we are aiming to create delightful new buildings that reflect the spirit and vitality of north Southwark.
"We already have selected design teams for the next six sites and eight more will be appointed in July so you can expect to see some more wonderful buildings over the next three years."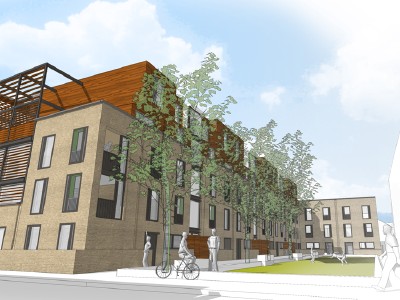 Welsford Street: Loats Taylor Shannon
Heygate tenants will be offered new housing association homes around Elephant and Castle and those who wish to remain council tenants will be offered a council flat elsewhere in Southwark. Residents will be moved one block at a time with demolition complete in 2010.