Pupils from three SE1 primary schools last week performed the world premiere of their piece of music Tales of the East in a special concert at St John's Waterloo.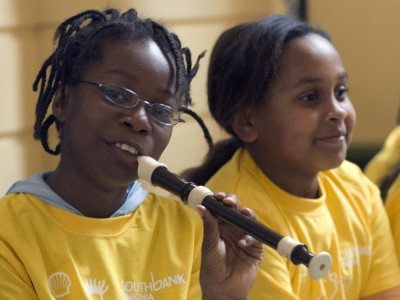 Adedoyan Adewale and Sara Zainu, both 11, from Johanna Primary School perform their piece "Tales From the East"
Pupils from Johanna, Friars, St George's Cathedral and St John the Divine primary schools joined forces with the BBC Symphony Orchestra, two Persian musicians and the players from Southbank Sinfonia to create a composition based around four eastern tales chosen by the schools.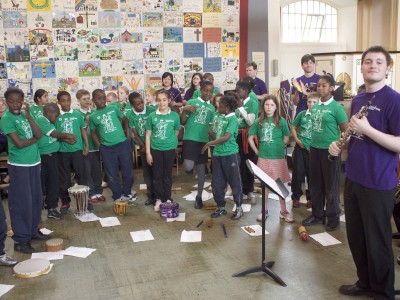 Year 6 pupils from Friars Primary School and Southbank Sinfonia player Chris Braime prepare to perform the world premiere of "Tales from the East"
"It's great to be working again with Southbank Sinfonia," says Lincoln Abbotts, learning manager of the BBC Concert Orchestra. "The players are so alert and ready to absorb new ideas and challenges – in many ways it's a dream job for me. The training and approach provided by Southbank Sinfonia is crucial for the continued evolution of orchestral 'possibility' – these players will go on to act as ambassadors within the music profession."

Taiwo Atinsola, 11, (centre) and fellow pupils (from left) Hephzibah Kabuhe 11, and Keeleigh Matthews, 10 from Friars primary school

Shell – which has been based on the South Bank for four decades – has supported Southbank Sinfonia since the launch of the orchestra in 2001 by providing performance opportunities and the chance for the young players to develop their outreach skills within the local community.
The orchestra runs a series of lunchtime concerts at Shell's York Road offices, a rush-hour concerts at St John's Waterloo for the local community and an annual large-scale education project where the players inspire and interact creatively with children in local Lambeth and Southwark schools, culminating in an opportunity for all the schools to come together in a colourful and spectacular joint performance.
"Shell has always been proud to work with and help our local community," says Andrew Eddy, director of the oil giant's London office. "We are delighted to sponsor Southbank Sinfonia and the outreach work it delivers to nearby schools producing a wonderful children's concert enjoyed by parents, teachers and Shell staff."