Network Rail has set out its timetable to select a development partner for the rebuilding of Waterloo station in its new business plan for 2009 to 2014.
The rail infrastructure company last week published its 'initial strategic business plan' which outlines the firm's emerging plans for operating, maintaining and developing the rail network from 2009 to 2014.
The document reveals that the 2006 business plan assumed a loss of £2.5 million of retail income per year at Waterloo from 2008/09 as as result of the installation of automatic ticket barriers and measures to improve circulation on the concourse reduce the space available for retail units.
The Waterloo development is expected to cost Network Rail £400 million, with the remainder of the £1 billion cost coming from a private sector partner which the company hopes to have selected by March 2008.
The redevelopment of the station – which is likely to include a new ground-level concourse with high-rise development above – ties in with the Mayor's Waterloo Development Framework which was published in draft form earlier this year.
The project is currently subject to a Transport & Works Act Inquiry, with the Inspector's report now with the Department for Transport. A decision is expected later this summer.
Network Rail has identified Waterloo as the key capacity constraint on the rail lines to south west London and southern England, both in terms of concourse and platform capacity.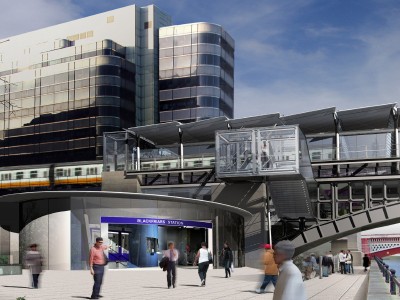 Computer-generated image of the new Bankside entrance to Blackfriars station
The document also covers the much-delayed Thameslink programme, which is due to cost Network Rail £3.5 billion.
Last year a planning inquiry considered the impact of revised plans for the upgrade of the cross-London railway link at Blackfriars and – most controversially – Borough Market.
"This is only the beginning of a two year long process to determine investment and expenditure plans for 2009 to 2014," says chief executive John Armitt. "There remains a great deal to be done, working with other industry stakeholders, to improve the robustness of our plans and to assess alternative options for the railway."