Sixteen years after the abolition of the County Hall-based GLC, London's government returned to SE1 yesterday when the Greater London Authority started to work from its new base near Tower Bridge.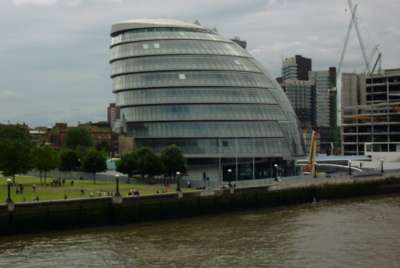 The striking circular structure once dubbed the "glass testicle" by Ken Livingstone was designed by Lord Foster and cost £43m under a private finance deal.
The Mayor and the Greater London Authority staff moved yesterday from their temporary accommodation at Romney House in Westminster for the new Norman Foster-designed building next to Tower Bridge, facing the Tower of London across the Thames.
The Queen will officially open City Hall on Tuesday 23 July.
Architectural commentator Marcus Binney has already compared the controversial building with the Pompidou Centre in Paris and New York's Guggenheim Museum.
Less flattering descriptions liken the curving glass structure to an ashtray, a fencing mask and a car headlight.
After the official opening the public will be admitted on weekdays to the cafe and, when not in use for functions, to a public viewing gallery. There is provision for up to 250 people to be able to watch the 25 GLA members meeting in session.
Outside, the large plaza is being planted with 30 foot trees brought from Germany and lit at night from a lighting tower. The GLA has leased the specially designed building until 2027.
• 360 degree tour on the BBC News website
• City Hall articles and photos from The Guardian