Two new art projects are brightening up Southwark Station. Passengers and passers-by may have noticed a billboard painting by Rolf Harris displayed outside the station and a mural created at a Bermondsey youth club.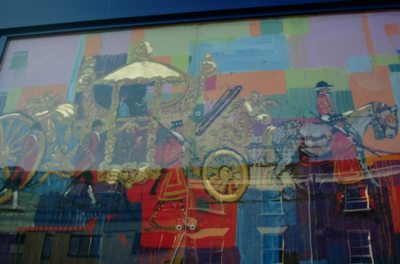 Rolf's painting
Before it appeared on the hoardings on
The Cut
side of the station, the Golden Jubilee work was painted at breakneck speed less than 24 hours earlier at the Jubilee Line's Stratford depot.
It features the procession of the state coach in the style of the Austrian artist Gustav Klimt, a Victorian hero of Harris.
The work in progress was filmed by the BBC for his Rolf in Art TV series. Rolf said: "It's great being given the chance to follow one of my heroes. Klimt was a great artist – painting strong, erotic scenes, which were revolutionary in their day."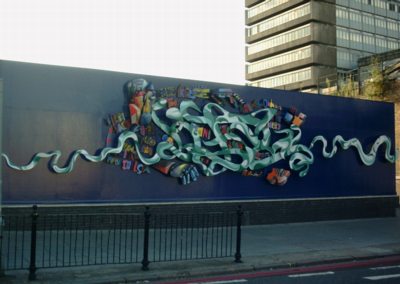 The Man Map of London
Meanwhile a 3D relief mural created by Southwark youngsters entitled the "Man Map of London" will soon appear near the station entrance. The map is created from the names of the young people taking part.

Close-up of the mural
The letters and characters of the names are the buildings and bridges that form the landscape of London. The Thames runs through the map as the lifeblood of the man and his city.
The Sculptural Graffiti project which produced "Man Map of London, is based at Downside Youth Club in Bermondsey and runs for three weeks from 12 August. It is part of the Thames Festival and has been funded through the Youth Justice Board and The Arts Council.
London Underground last week announced that Southwark passengers will also be able to enjoy two sculptures from an earlier Sculptural Graffiti project which were previously displayed at Barbican Underground station. The sculptures will be on view in the circulating area at the bottom of the escalators.