Six weeks after the official opening by Lambeth Mayor June Fewtrell, the Waterloo Millennium Green's facilities are now being brought into full use.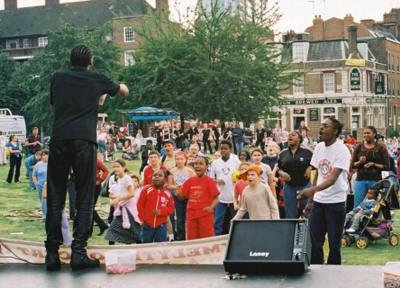 The opening event on 21 September
This month the meadow area is due to be flailed on 23 November, a traditional method that will help to sustain wild flower growth.
The Waterloo Community Charity, which looks after SE1's newest green space, says that it has received lots of requests from users of the green for more benches. It hopes to provide more seating around the trees near the waterfall.
Other innovations in the pipeline include the provision of recycling bins, and a new noticeboard.
Volunteers are needed to help with a variety of tasks on the Green. An easy way to get involved is to join one of the weekly sessions run by Putting Down Roots and volunteers from St Mungo's – email phaedra@waterloogreen.org.uk for more information.
Saturday 14 December is also a date to put in your diary, with carol singing, mince pies, mulled wine and Father Christmas joining a special Christmas event on the Green.
The Living Space is the distinctive new building at the southern end of the green – Lambeth Council is working on a variety of community services to be based there, including an Internet Cafe to be run as a social enterprise, providing training and employment for young people aged 16-15. The Living Space will be open to the general public once training has been completed.
Blackfriars Setlement is responsible for the outdoor play areas, with water play and adventure play sessions throughout the week. The youth club meets on Monday, Wednesday and Friday between 7pm and 9pm.