On Wednesday afternoon Prince Charles attended the memorial service at Southwark Cathedral for the victims of the Bali bombing.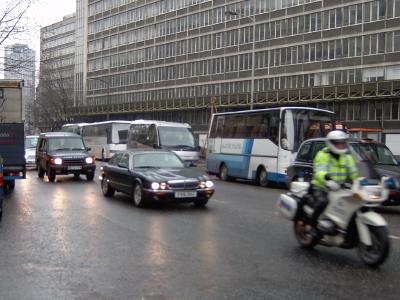 Australian Prime Minister John Howard's entourage in Southwark Street
A huge security operation was mounted in the area surrounding the cathedral as preparations were made for the arrival of the large congreagtion which included families of the 26 UK citizens who lost their lives in the bombing and the 17 who received serious injuries.
Also present were the Australian Prime Minister John Howard and the Home Secretary David Blunkett. Foreign Secretary Jack Straw read a lesson and actress Jemma Redgrave read 'Farewell my friends', a poem by the Hindu poet Rabindranath Tagore.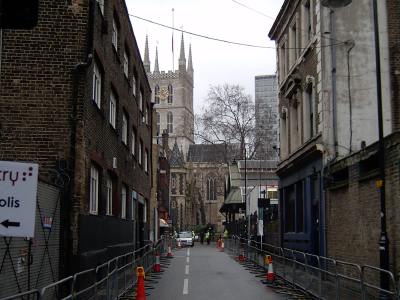 The cathedral's flag was flown at half-mast
The preacher was the Bishop of Oxford, the Rt Rev Richard Harries. The Bishop of Southwark, the Rt Rev Tom Butler gave the blessing.
Speaking ahead of the service, Dean of Southwark Colin Slee said: "Southwark Cathedral welcomes the families of those who suffered in the Bali tragedy. At this moment of high tension over Iraq and international concern about terrrorism, it will be a particularly poignant memorial."
After the Dean's opening Bidding, clergy lit 26 candles in memory of those UK citizens who lost their lives, while the Cathedral Choir sang Psalm 121 set by William McKie – 'I will lift up mine eyes unto the hills; from whence cometh my help?'
Children from the Cathedral School took 569 orchids to the families of the victims, seated in the nave of the Cathedral.
Many roads around the Cathedral were closed and there was a strong police presence in the nearby streets, as well as police boats on the Thames.