The recent clearing of the Paris Garden site is the latest in a series of controversies surrounding the derelict Meymott Street site which has lain empty for years.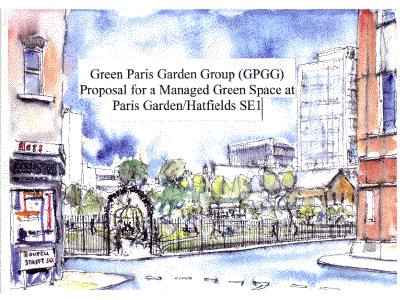 The land, once occupied by the single storey New Musical Express buildings, has recently been cleared by owners
Southwark Council
ostensibly because of concerns about rubbish and needles on the site although local people have been asking for months for a secure fence. There are now concerns about the considerable birdlife which used the wild plants on the site as a rich source of food.
The clearance has also helped to focus attention on Paris Garden as a possible managed green space – a real garden as opposed to the current planning application for two floodlit sports pitches on the site.
The planning application, from nearby Colombo Street Sports Community Centre, goes before Southwark Council this month. Colombo Street feels that more outdoor sports facilities are needed for young people locally, especially with the increased number of families living on the Coin Street site.
However, many local people are opposed to the the idea of two sports pitches situated between Hatfields and Christchurch Gardens. They are worried about potential nuisance from noise and lighting on the site and believe that there has not been a proper public consultation about the site which sits on the border of Southwark and Lambeth.
The Green Paris Garden Group which is campaigning for a managed green space at Paris Garden has a vision of it as a community garden with space for yoga and educational activities as well as some imaginative planting schemes. They are looking at the possiblities of linking up with community gardens in Paris and tying in with Ken Livingstone?s vision of London as a city of beautiful garden squares.
Chris Owens, a member of GPGG says: ?Of course we are sympathetic to young people but the siting of hard-surfaced sports pitches needs to be treated with great care. We feel this is the perfect opportunity for a harmonious natural space not only for local people but for people who work here as well.?
Supporters of the garden scheme include Roots & Shoots, Bankside Open Spaces Trust, Waterloo Charity and Waterloo Community Development Group.
Meanwhile Lambeth Council has just passed a
planning application submitted by Colombo Street for two football pitches at Hatfields on the proviso that the surrounding environment is handled sensitively.
Coin Street has also recently made public its own plans for an indoor sports complex at Doon Street to include a swimming pool, housing and some offices.
A number of objectors are erxpected to attend the planning hearing at the Town Hall in Peckam Road SE5 on Wednesday 19 February. The meeting, which begins at 7pm, is open to the public.