A £15.6 million centre providing state-of-the-art maternity, gynaecology and neonatal services was opened at St Thomas' Hospital last week by health secretary Alan Milburn.

Alan Milburn with the Houses of Parliament visible through the blinds
Directly opposite the Houses of Parliament, the Centre has spectacular views over the River Thames. It houses a range of services for new and expectant mothers, and has state-of-the-art facilities including a birth centre, with a 'home-from-home' unit for women with low-risk pregnancies, and a hospital birth unit for women and babies who need extra care. Feedback from women has made sure the birth centre is relaxed and homely, with facilities including sofa beds for partners who need to stay with their family overnight and two pool rooms for water births.
Hospital Trust chief executive Dr Jonathan Michael said: "We are delighted that the Secretary of State is able to join us to mark this very special occasion. Through this investment we have been able to create a truly unique Centre that helps us to improve the quality of care we are able to provide to women."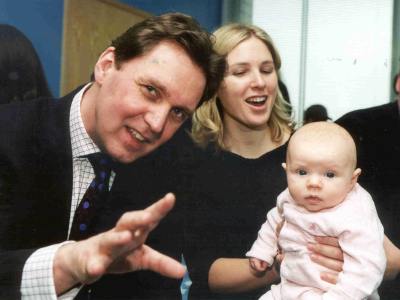 Alan Milburn meets a mother and baby
From the very start, women were consulted on the new development. Dr Susan Bewley, Clinical Director of Women's Health Services, said: "The Trust serves a diverse population and the Centre has been designed to appeal to, and be accessible to, all women.
"By seeking the views of women who use the service at the design stage, we were able to shape the Centre to meet their needs. Co-ordinated colour schemes for walls, furniture and flooring define different areas, and help people with visual impairments find their way around the centre. All bathrooms and showers can be used by women with disabilities and there is a fully adapted birth room for wheelchair users."
Another unique feature is the eye-catching art that gives the Centre a friendly, welcoming atmosphere for patients, visitors and staff. The artworks have been carefully selected to appeal to and reflect the diverse communities we serve.
The new centre was funded through £100m capital investment announced 1999 (£50m from the Government; £50m from Guy's and St Thomas' Charitable Foundation).
The neonatal unit is part of the Trust's Evelina Children's Hospital, but has a close relationship with maternity services.