The Pool of London Partnership has agreed £213,290 of funding towards four projects including three sculptures at the More London development alongside City Hall.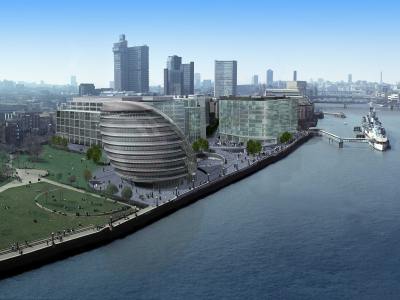 Computer visualisation of the completed More London site
The mixed-use development will include shops, restaurants, bars, supermarket, the Unicorn children's theatre, hotel and community facilities as well as offices and new open spaces. The three sculptures will be installed by the end of September.
The funding will also pay for a feasibility study at the Old Operating Theatre Museum which may be able to expand into the adjoining disused St
The other projects funded are a Design & Investment Study at Tower Gateway on the north bank and an Asylum Seeker Support programme in Grange, Snowsfields and Tower Bridge Schools.
The PLP has also invested over £1m in the four open space improvement projects at Guy Street Park, Alfred Salter Playground, St John's Churchyard and the environment around the Beormund Centre. These projects are due to be completed by the autumn.
Linda Houston, PLP Director said: "Investment in these four projects shows the breadth of work the PLP are supporting. All of these projects will bring a significant change to the area and the people who live, work and visit the Pool of London. Coherent transport interchanges, attractive public spaces, a supportive educational programme and the development of smaller attractions are all key ingredients in the PLP?s vision to create a new quarter for London."