Dr Rowan Williams, the Archbishop of Canterbury, has laid the foundation stone of the new Evelina Children's Hospital at St Thomas' Hospital.
Dr Williams was accompanied by children who were past or present patients. Also present was architect Sir Michael Hopkins who has designed the new hospital.
The new £60 million Evelina Children's Hospital is being built by Sutton-based national construction group Gleeson and is due to open late next year.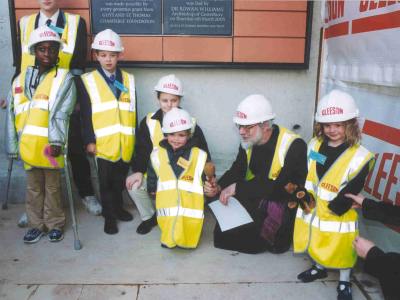 Children with the Archbishop are (left to right): Katie Budu Manuel
(10), Matthew Squire (9), Aston Avery (11), Sebastian Wolfenden (3) and
Cissy Adamou (3).
It will be a seven-storey glass-fronted building, featuring a four-storey conservatory, with dramatic views over the Archbishop of Canterbury's official residence at Lambeth Palace and Archbishop's Park.
The new hospital will include 140 inpatient beds for children who need to spend time in hospital including 20 intensive care beds for the most seriously ill children; three operating theatres, a Hospital school and day care and outpatients departments for children who don't need to stay in hospital
Inpatient wards will be positioned on the upper levels of the seven-storey building so children who have to stay in hospital, rather than being cared for at home, enjoy the best views.
Dr Frances Flinter, Clinical Director of Children's Services at Guy's and St Thomas' Hospital NHS Trust, says: "We want this new children's hospital to be much more than just a landmark building on a landmark site – our aim has been to create a hospital that does not feel like a hospital by involving children, their families and our staff in the layout and design of the new hospital."
• The original Evelina Children's Hospital was founded in Southwark in 1869 by Baron Ferdinand de Rothschild following the death of his wife Evelina in childbirth. It was amalgamated with the children's unit at Guy's Hospital in 1947 and the original Evelina building closed its doors in 1976 when children's services were moved to the newly built Guy's Tower.