Italian architect Renzo Piano will be appearing at the London Bridge Tower Public Inquiry opening on Tuesday 15 April.
Panorama showing the tower and Tate Modern
The proposed building next to London Bridge Station is over a thousand feet high and more than 200 feet higher than Canary Wharf Tower. It would be Europe's tallest building.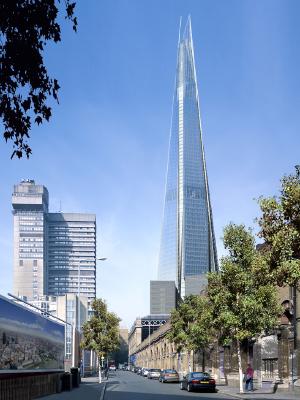 View from St Thomas' Street
The plan is being opposed by English Heritage and the Royal Palaces Agency. Critics are concerned about adverse effects on the historic views of St Paul's Cathedral, especially from Hampstead.
Professor Piano says: "I see my tower as a small vertical town with about 10,000 people working there."

Views at three different times of day
Irvine Sellar, who has commissioned the design, claims that the skyscraper will be a gateway to work opportunities with an onsite drop-in and training centre.

The tower proposal is supported by the Mayor of London and both the Corporation of London and Southwark Council.
The Public Inquiry is at the LSE's Bankside House in Sumner Street, behind Tate Modern.
• London Bridge Tower