Peter Layton of the London Glassblowing Workshop is exhibiting his latest work alongside ecclesiastical embroiderer Jacquie Binns.
Peter Layton with 'Vortex Stone Form'
Bermondsey-based Peter Layton's exhibition The Art of Glass and Embroidery is at the new De Morgan Centre upstream in West Hill SW18. The sixty colourful pieces produced at his studio in Bermondsey's Leather Market in
Weston Street
.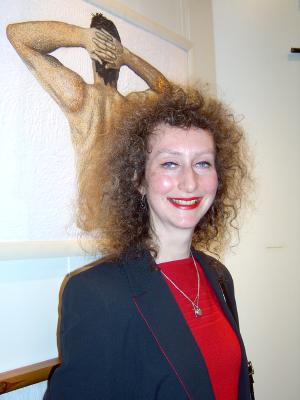 Jacquie Binns with her new 'Male Back'
Jacquie Binns, who lives in the Southwark Diocese and is well-known for her unique church vestments, calls her exhibition Secular and Religious Art. Her new secular work is a dramatic surprise and its first London showing.
The joint show, with items for sale, continues until Wednesday 30 April. Open Mon-Wed 12-6pm; Fri-Sat 10am-5pm. Closed Good Friday and Easter Monday.
• www.londonglassblowing.co.uk