Upon entering this new shrine of modern art on the South Bank, I felt as if I entered a different world of beds, sheep, and bodies all suddenly thrown in front of my eyes.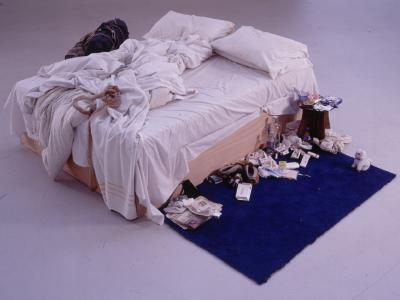 The new Saatchi Gallery at
County Hall
has already begun to raise eyebrows. The focus of the gallery is to emphasize the Young British Artist movement in London. With influential works like Tracey Emin's "My Bed" and Damien Hirst's "Hymn", the viewer is forced to make new decisions on what art is.
The vast gallery is a great venue to house many of the massive works and the Damien Hirst retrospective fits right at home here. From his pop-art polka dots to his infamous shark in formaldyhyde, Hirst's fascinating statements are undeniably thought provoking.
The Gallery itself is set out beautifully. Each work seems to be Tossed into its own section or room. There are no ropes or boundaries, thus you feel as if you're actually a part of the art itself. The works have plenty of breathing room so you are able to soak up every bit of expression, angst and humanity these works ooze.
A spokesperson for the gallery stated that they are happy to be "adding to the cultural community of the South Bank" and the be "easing people into appreciation of contemporary art". I warn residents of SE1 to ease in slowly because the Saatchi Gallery will surprise you.
• Saatchi Gallery
• Book now with Ticketmaster
• Buy the Saatchi Gallery's 100: The Work That Changed British Art from Amazon.co.uk