There's an exciting weekend of events ahead on the South Bank at this year's Thames Festival, but Sunday's fireworks display has been cancelled following this week's tragic events
Friday, Saturday & Sunday
RIVERSIDE FESTIVAL BAZAAR
12 noon-10pm

Stretching from Waterloo Bridge to the Oxo Tower. Stalls selling sangria, traditional lemonade, real ale, doughnuts, fresh fruit, fresh coffee and cookies, ice cream, foods from around the world and over 100 craft stalls.
FUNFAIR
12 noon-10pm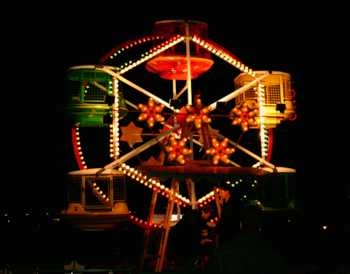 By Gabriel's Wharf. Complete with "Baby Eye" ferris wheel and a Helter Skelter with a view of St Paul's.
WORKSHOPS & ACTIVITIES
1pm-6pm

Lantern-making workshops in Bernie Spain Gardens Make fish hats and fish on sticks with the Environment Agency team or make a flower to add to the huge globe – a communal-effort sculpture being made over the three days of the festival to create a world without borders: a world without refugees.
ILLUMINATE FEET HIGH
7pm-10pm

Peter Hillary's cluster of 25 bamboo and paper tower light structures, illuminated by candlelight, can be found on the river by Gabriel's Wharf.
LIQUID LIGHT
7.30pm-10pm

Over the three evenings of the festival, artists in light Simon Corder and Patrick Watkinson transform the LWT Tower into a monumental beacon of light and image.
Saturday 15 September
THE GREAT RIVER RACE
afternoon

Boat race from Ham House to Island Gardens. BBC London Live will provide commentary from 3.30pm as the boats pass Gabriel's Wharf.
THE FLOATING STAGE
6pm-10pm
Browse the festival\'s night market and listen to London's very own off-shore radio station on the Thames by Oxo Tower Wharf. From 8pm Saturday Night with Charlie Gillett will be broadcast live on BBC London Live.
Sunday 16 September
WORLD WATER WALK
morning

Sponsored walk along the Thames Path to raise money for WaterAid and Thames21. Starts either at the Thames Barrier in the east or in Putney in the west and converges at the South Bank in time for the festival fun. Wear blue to form a river of people along the Thames. Visit www.WaterAid.org.uk or telephone 020 7793 4500.
RIVER REVELRY
2pm-6pm

On the riverside walkway by Gabriel's Wharf Thames21 will offer a display of weird river rubbish and a river clean-up. You can river dip with the Thames Explorer Trust and contribute to their \'River for Life\' survey. The Environment Agency team will give seine netting displays and also offer an archeological roadshow and face painting. Plus stalls including the London Aquarium and the RSPB.
LANTERN PROCESSION
7.30pm-9.30pm

Victoria Embankment and Blackfriars Bridge to Upper Ground. This spectacular procession is the result of over three months of creative work by teams of artists working with schools and community groups.