With just under three weeks to go before thousands of people gather at the Royal Festival Hall to pound the streets of London in Walk for Life 2003, leading HIV/AIDS charity Crusaid is looking for volunteers to make sure the day runs smoothly.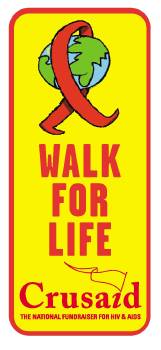 Crusaid urgently needs volunteers to help with the huge task of putting together the Walk for Life to ensure the event goes without a hitch. The more people help out, the more money can be raised to help people living with HIV and AIDS – both in this country and overseas.
Nigel Seymour, Sponsored Events Manager at Crusaid, said: "Walk for Life is the biggest annual fundraiser for HIV and AIDS – and putting it together is a massive job. With your help, we can make this year's Walk better than ever. Whether you have just one spare hour or loads of free time on your hands between now and June 22nd, we can find a way that you can help fight HIV and AIDS.
"We're determined to make a real difference to the lives of people affected by HIV and AIDS – the help we get from volunteers on the day is absolutely vital."
So, what can you do?
9-13 June
• Help with stuffing Walk for Life 2003 'goodie bags'
• Help with the creation of the thousands of walker passes
16-20 June
As hundreds of last-minute walkers register, the Walk office needs help answering the phones and sending out Walk for Life packs to supporters.


22 June – The Big Day!
REFRESHMENTS AND GOODY BAG PROVIDED TO ALL VOLUNTEERS!!!
• 11am-2pm: Volunteers needed to help set up the Walk for Life starting line at the
Royal Festival Hall
on the South Bank
• 2pm – 4pm: Registration of walkers
• 4pm – 7pm: Help staff at the fantastic party – organised in association with Coco Latté (Events to be held at the Honourable Artillery Company grounds – it's your chance to mingle with the stars!)
Crusaid is the national fundraiser and leading independent grant maker for HIV and AIDS in the UK. With more people infected and affected by HIV and AIDS in the UK and world-wide than ever before, the calls for our help have never been greater.
To find out more about how Crusaid is funding education, care and prevention, or to donate, visit www.crusaid.org.uk
Registration for Walk for Life is at www.walkforlife.co.uk

Phone registration via 0907 907 77 77 (calls cost 50p with 11p going to Crusaid to help fund the fight against the epidemic).

• Assembly point: Royal Festival Hall from 2pm
• Walk for Life commences at 3.15pm
• Walk for Life is supported by Kiss 100

To get involved, contact Nadine Allexant on 020 7833 3939 or email nadinea@crusaid.org.uk">nadinea@crusaid.org.uk