Bankside Traders Association has visited City Hall as guests of Southwark's GLA member Val Shawcross.
City Hall">
BTA Chairman Chris Barlow is greeted by Valerie Shawcross at City Hall
BTA members toured the Norman Foster riverside building and enjoyed views of SE1 from London's Living Room viewpoint at the very top. London's new government and some of the Mayor's early initiatives were outlined inside the Assembly chamber.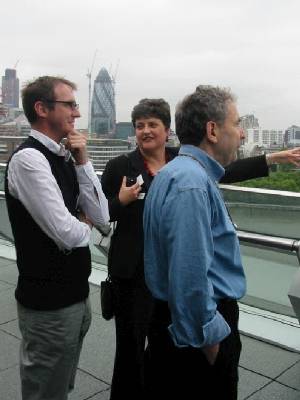 City Hall">
Valerie Shawcross showing the view to Charles Tyler of Champor-Champor and Peter Layton of the London Glassblowing Workshop
The visit was part of the BTA's summer programme which includes a seminar, a networking gathering and a party at
Bankside Gallery
.
• BTA membership details are available from bta@betterbankside.co.uk>bta@betterbankside.co.uk