Simon Hughes MP and Chairman of the Borough Market George Nicholson were amongst attendees at a public debate on genetically modified (GM) food earlier this month.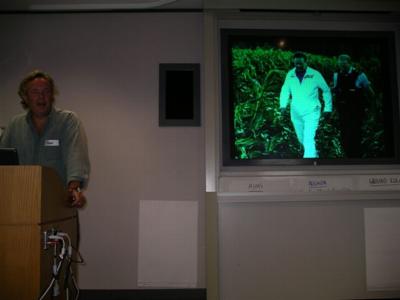 Lord Melchett from the Soil Association
The event, held at PricewaterhouseCoopers, was organised by campaigning group Five Year Freeze to coincide with the current government-sponsored public GM debate.
The organisation is pressing for a five year pause on GM production in order to adequately assess any potentially negative impacts of genetically modified food.


Arable farmer Dave Carmichael
Arguments for GM food were put forward by Dr Dave Carmichael, arable farmer, and against by Lord Melchett, policy director of the Soil Association. Attendees were then able to contribute to the national debate, running until 18 July, by completing official Government feedback forms.
Anyone else wishing to have their say on this controversial subject can access the government feedback form . All forms must be submitted by 18 July, after which they will be assessed by the Government to ascertain the nation's mood towards or against GM food.