Contractors have started moving the hedges and grass behind Tate Modern ready for work to begin on boring a tunnel under the River Thames.
The new tunnel will carry power cables between the substation at
Tate Modern
and Farringdon Street in the City of London across the Thames. The shaft being sunk from the end of this month will be hidden by a hoarding which from next Spring will carry an artwork. The Tate garden will be fully restored in 2005.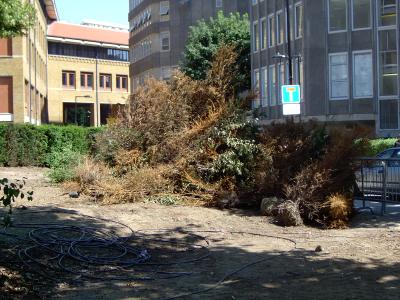 An information session is being held by EDF Energy on Saturday 2 August from 12 noon to 3pm at
Bankside House
in
Sumner Street
. The exhibition is on the 8th floor where a balcony gives a view of the site at the SE corner of
Tate Modern
.The display includes pre-Second World War photographs and maps of Tate site.
• The EDF Energy Tunnel information line is 0800 781 4721.