West Bengal's Commerce & Industries Minister Saurindra Roy and colleagues have visited Borough Market as part of a fact-finding tour of the riverside.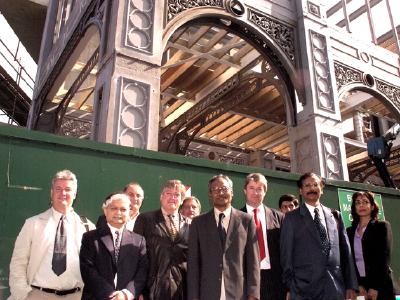 The delegation was seeking an understanding of British waterfront regeneration prior to a proposed waterfront development in Calcutta. They were particularly interested in the experience at
Oxo Tower Wharf
and
Borough Market
and the regenerative impact these developments have had on the surrounding areas.
Market Trustees Chairman George Nicholson hosted the visit which began with a presentation in the Trustees' Board Room followed by a Market tour. Others present included representatives from English Heritage and the London Rivers Association.
The Market is currently undergoing an extensive refurbishment programme, partly-funded by the London Development Association. The works include sympathetic renovation of the original market and a Floral Hall extension incorporating Victorian ironwork from the old Covent Garden Market.
The ancient wholesale fruit and vegetable market, well known for its twice-weekly retail food market, recently won the Visit London award for the Londoners' most popular capital attraction.