The Mayor's Totally London Tour came to the South Bank and Bankside this weekend, with street entertainment in Waterloo and a special Sunday opening of Borough Market.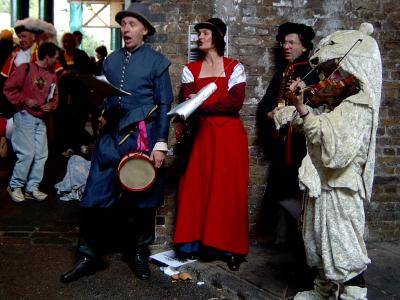 Musicians from the Lions part performing in Borough Market

Andy Serkis signing autographs in Borough Market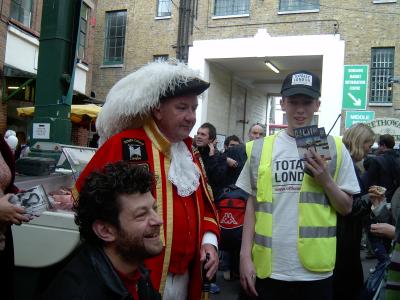 Serkis was accompanied by London's Town Crier Peter Moore
BBC London's Emily Maitlis and
Andy Serkis
- Gollum in the Lord of the Rings – attended a special Sunday of trading at
Borough Market
marking the grand finale of the Totally London Tour, designed to boost London's flagging tourism industry.

Metro competition winner David Templar (left) with Emily Maitlis and Andy Serkis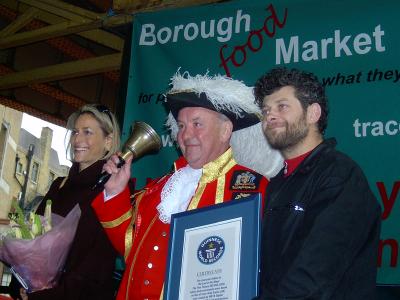 Serkis poses with his certificate along with Emily Maitlis and Peter Moore

Emily interviewed Andy about his character in the film trilogy and the play he is directing at Southwark Playhouse, Double Bind by Patrick Suskind. They were joined on stage by David Templar, the winner of a competition in the Metro newspapper, who presented Andy with a Guinness Book of Records award for the most expressive digital character.

The Totally London logo recreated on a Borough Market trolley

Southwark's tourism manager Elsbeth Turnbull said: "After years of neglect Borough and Bankside now bustle with things to do and places to see. The transformation of this area has really put Southwark on the tourist map are we are delighted to have put together this weekend of events and activities with the Totally London team and South Bank marketing group."
On Saturday the Totally London campaign supported a fun-filled event in Lower Marsh and The Cut with lots of music, food and family entertainment.
There was something for everyone: free salsa lessons outside Cubana, mask-making at the Young Vic, a retro fashion show at The Walrus and circus skills and drumming lessons at Johanna School. The Old Vic laid on cabaret in its newly relaunched bar, and many other businesses and organisations laid on entertainment or special offers.