Bankside Restaurant, which is in the running for a London Business Commitment to the Community award, recently hosted a sparkling Charity Ball which brought a touch of glamour and over £8,000 for Action for Blind People.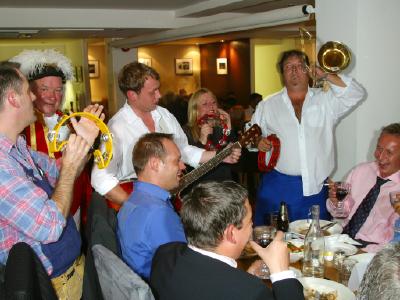 Guests at the Bankside ball included Southwark Mayor Columba Blango and London Town Crier Peter Moore who, dressed in full regalia, ran the charity auction. There were also some surprise entertainers, Spanner in the Works, who posed in various guises including paparazzi photographers and rather inept waiters, much to the amusement of guests.

Colin Brown, a Visual Awareness Consultant at
Action for Blind People
, made a speech and accepted a cheque on behalf of the charity for money raised during the evening. He thanked Kelvin Macdonald and his staff at Bankside Restaurant and everyone who had helped to turn the word "can't into can" for visually impaired people in London.
On Sunday 28 September the spotlight turned on local artist Steve Hollingshead who projected over 500 black and white photographs onto a big screen in the bar, accompanied by live music from Aaron. As Hollingshead specialises in capturing Londoners at play it was a fitting finale to the Totally London Tour, which was designed to encourage people to get out and enjoy their capital more.
Local MP Simon Hughes introduced the event. He thanked Steve for his dedication in capturing such up-lifting images of London, and Bankside Restaurant for its on-going community support through charitable events, education programmes and its affordable cuisine.
The results of the London Chamber of Commerce Commitment to the Community award will be announced on Thursday 6 November at a black-tie dinner. Bankside Restaurant is one of four businesses in the running for the award. "Taking London", an exhibition of photographs by Steve Hollingshead, can be seen in the restaurant.