Two of the brains behind the former Mint on Montague bar at London Bridge have come together to launch Southwark Rooms, a bar and restaurant in Southwark Street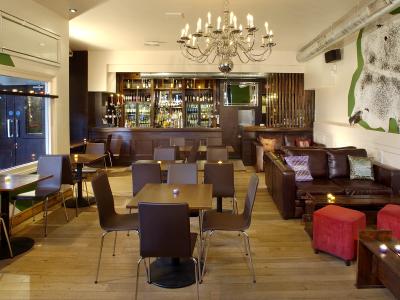 The owners claim that drinkers in the Borough have been deprived of a classy cocktail bar since Mint on Montague closed its doors in 2002.
Southwark Rooms occupies the former William Shakespeare pub on the corner of Southwark Street and Southwark Bridge Road.
Interior designer Sue Ashe has transformed the upper bar into an eclectic, inviting space, ideal for relaxing with an after-work or pre-club cocktail. Below ground, the basement has received a lush Chinoiserie-style makeover, creating an intimate space for private parties and late-night frivolity.
Southwark Rooms is the brainchild of Geoff Ridgeon, formerly general manager of the Mint Bar Group and, before that, one of the innovators of the hugely successful Match Bar chain. Ridgeon is also the owner of Streatham style bar Baroque. Co-owner Wills Logue has been a manager at Mint on Montague, Bar Latino and Café de Paris.
To celebrate the launch, Southwark Rooms have teamed up with its Southwark Street neighbours Appleton Estate V/X Jamaica Rum to redefine a cocktail classic.
The SE1 Mai Tai is a contemporary reworking of the Mai Tai, which was created by 'Trader' Vic Bergeron 60 years ago. Fittingly, Trader Vic's original Mai Tai was created using 17-year old rum from the Appleton estate. The SE1 Mai Tai contains Appleton Estate V/X Jamaica Rum and gives a contemporary twist to the original recipe. It is available exclusively at Southwark Rooms.
• Southwark Rooms is at 60 Southwark Street and is open weekdays 12 noon-11pm, though Saturday opening is planned. Cocktails are priced between £5 and £8 and main courses for lunch and dinner range from £8 to £12.