The cameras are rolling again at Borough Market - this time for the sequel to Bridget Jones's Diary.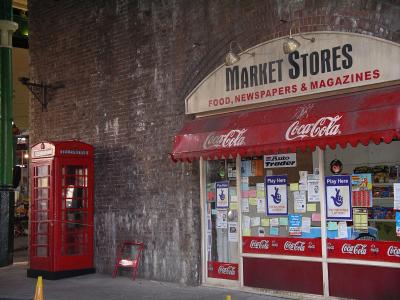 The viaduct on Bedale Street, transformed into a newsagents
Fans of the previous hit film will recall that Bridget, played by Renee Zellweger, is portrayed as a Southwark girl who lives in a flat above the Globe pub on
Bedale Street
.
The next film, Bridget Jones: the Edge of Reason, meets up again with the loveable plump Chardonnay-swigging Londoner five weeks later. As she is still living in the same flat, the surrounding area been transformed to how it was previously. The newsagents is back, as is the Greek Restaurant on Bedale Street. Of course Borough Market has been renovated since the last film and now sports some fresh green paint and a glass roof. Hopefully the audience won't question the transformation!
The filming will take place over Wednesday and Thursday this week and will involve Renee Zellweger as well as Colin Firth, playing Mr Darcy again. Borough Market is brimming with even more fresh fruit and vegetables than usual, all supplied by local greengrocers Turnips, and there is a tempting stall selling cheese from Neal's Yard Dairy.

A temporary cheese stall and fruit and veg at Borough Market.
Borough isn't the only thing that has changed its appearance for the film. Renee has had to pile on four stone for her part. No doubt she'll be looking longingly at the healthy fruit and vegetables on display!