On Underground platforms it is a pleasure to see an Eric Ravilious poster again and this time advertising an exhibition.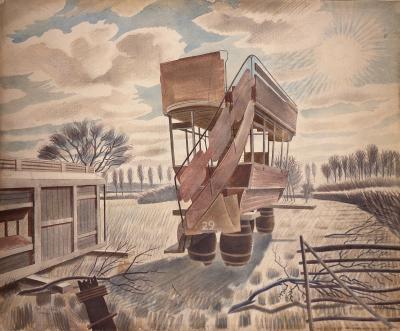 Fifty years ago his work was associated with London Transport publicity. Indeed the woodcuts he made for the LT Country Walks books in 1936 continued to appear in the series for more than forty years.
Many more delightful Ravilious works can be seen at Eric Ravilious: Imagined Realities exhibition marking his centenary of his birth at the Imperial War Museum.
Ravilious was a war artist with his life cut short in 1942 during the Second World War. But so fine and distinctive was his work that demand continued.
The turning point in his life was 1928 when he began working on murals (now lost by bombing) for Morley College . They were important enough to be 'opened' by the Prime Minister Stanley Baldwin.
He was to be embroiled in the Abdication crisis of 1936 when Ravilious was commissioned to produce a Coronation mug for Edward VIII's coronation. When this did not happen the mug was altered to celebrate George VI's crowning. So good was the design that it was reused for Elizabeth II.
Last year, 61 years after his death the designs were used by Wedgwood to produce a Golden Jubilee mug.
The exhibition has many examples of his mugs and plates. Familiar in many homes, again because it was reissued after his death, is the Alphabet nursery mug.
The greatest pleasure is seeing his watercolours and lithographs of the countryside, often near his Eastbourne home town. This is the world of steam engines, delightful shops and white horses on chalk hillsides.
The paint for the exhibition walls has been carefully and successfully chosen to complement the remarkable work which may not be brought together again. This show should evoke memories for many but should also be seen by those who know little of Ravilious's unusual work.
• Eric Ravilious: Imagined Realities, A Centenary Exhibition is at the Imperial War Museum until Sunday 25 January; admission free.
• A book of the exhibition, Eric Ravilious: Imagined Realities by Philip Powers, with many colour illustrations, accompanies the exhibition and is published by Philip Wilson Publishers/IWM (£20).