Southwark Cathedral's Refectory is the latest gallery to open in SE1.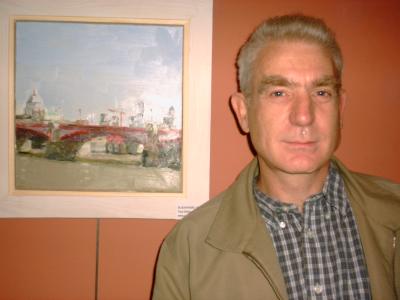 The Refectory's first exhibition is The Bridges of London featuring twelve paintings of nearby Thames bridges by Paul Gildea.
Familiar London Bridge, Tower Bridge and the Millennium Bridge are all depicted. Hungerford Bridge includes the dominant London Eye. Most pictures faithfully record the presence of a crane on the City side.
London-born Paul Gildea now works in a south London studio and he has had work exhibited at the National Portrait Gallery.
As a child his family did not have television and spare time was spent on the Thames beach. He has always been fascinated by the bridges which vary in height and are subject to the rise and fall of the tide.
"My paintings are oils on canvas or on board" says Paul. "They are always painted from the subject, from life. The process of painting or drawing things into the right place, getting the colours and tones, has become an unthinking response."
He suggests that the French paint sex, the Spanish death and the English the weather.
All the paintings are for sale with prices ranging from £440 to £1300.
• The show and exhibition series was declared open by SE1 artist Edith Slee who is a member of the Refectory's Hanging Committee.
• The Refectory at Southwark Cathedral can be visited daily 10am-5pm, except Christmas Day and Boxing Day; free. The Bridges of London continues until Sunday 4 January.