A march protesting George Bush's state visit, taking the form of a state procession with a horse-drawn carriage bearing the 'Queen' and 'George Bush', set out on Wednesday morning from Jubilee Gardens.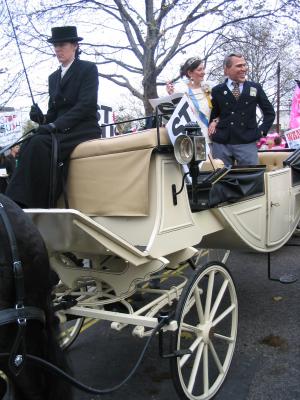 A forest of signs proclaimed "Wanted: Bush/Blair for War Crimes", and "World's Number One Terrorist" obscured the
London Eye
.
About two hundred peace campaigners followed the carriage down the
York Road
side of
Waterloo Station
, round the IMAX cinema, and across
Waterloo Bridge
to Trafalgar Square. Demonstrators carrying 'nuclear warheads' enforced a security bubble around the carriage, mocking the US president's requests for an extraordinarily high level of security during his visit.
The rest of the procession was equally colourful. Members of the Campaign for Nuclear Disarmament (CND), dressed as weapons inspectors, pushed along a mock Trident missile. Coals smoked in the muzzle of a pink cardboard tank from Daventry. Artists Against the War contributed a float plastered in disconcerting posters featuring Bush, Blair, dogs and babies. Advocates demanding 'Hands off Cuba' carried an over-sized puppet of Bush.
Someone in a Saddam Hussein mask carried a sign with an absurdist passage including the line "So many dead and lots more maimed? Just make damned sure we don't get blamed." Stop the War Coalition's London-to-Baghdad big red bus brought up the rear, broadcasting chants to reinforce the message to Bush that "You're not welcome here".
The procession was planned to coincide with George Bush's ride from Buckingham Palace, where he spent Tuesday night, to the Banqueting House, for his Wednesday address.
That the American president chose to cancel a very public ride with the Queen is perhaps testimony to the impact groups opposed to his visit are having. It is unclear whether the general public will get so much as a glimpse of George Bush on this trip, he is keeping such a low profile.
Even the prospect of facing British MPs seems to daunt the President: Bush was scheduled to address both Houses of Parliament, as Ronald Reagan did on his quasi state visit in 1982, but that appointment too has been cancelled.