The Archbishops of Canterbury and Westminster were present at the Enthronement of the new Archbishop of Southwark.

The newly installed Archbishop of Southwark leaves the cathedral
Kevin McDonald has been enthroned as Roman Catholic Archbishop of Southwark during a two hour ceremony at
St George's Cathedral
. So many crowded into the building in
Lambeth Road
that stewards ran out of the special service booklets.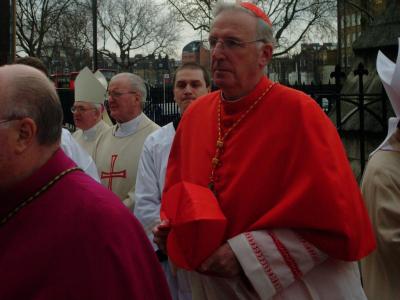 Cardinal Cormac Murphy-O'Connor
Before the Mass at 12 noon there were three outdoor processions beginning with the diocesan clergy who vested in the Amigo Hall. Cardinal Cormac Murphy O'Connor headed a procession of bishops. Last in the line to enter was former Archbishop of Southwark Michael Bowen.
Shortly afterwards the new Archbishop of Southwark, vested in cope and mitre, walked along Westminster Bridge Road from Archbishop's House to be received at the cathedral's west door by the Papal Nuncio.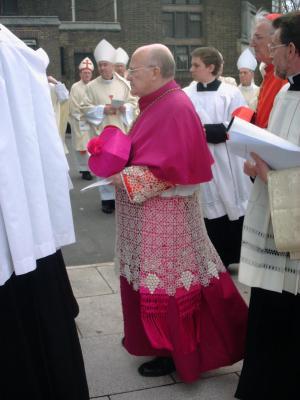 The Papal Nuncio in procession
Also present was the Anglican Bishop of Southwark Tom Butler who was accompanied by the Bishop of Rochester and Dean of Southwark Colin Slee. The Roman Catholic Archdiocese of Southwark embraces the Anglican Dioceses of Canterbury, Rochester and Southwark.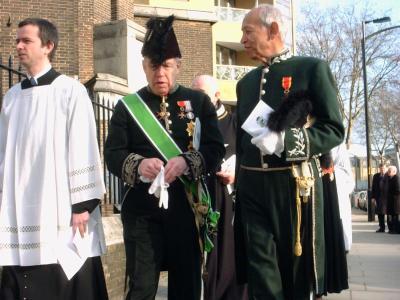 Papal knights arrive at the cathedral
Archbishop Kevin Murphy is aged 56 and was until last month Bishop of Northampton.
• The new Archbishop of Southwark will preach during Christmas Midnight Mass at the cathedral. The Mass will be broadcast live on BBC Radio 4.