It could soon be possible to stand on the South Bank and see and talk to passers-by in a Vienna square via a huge video-conferencing screen.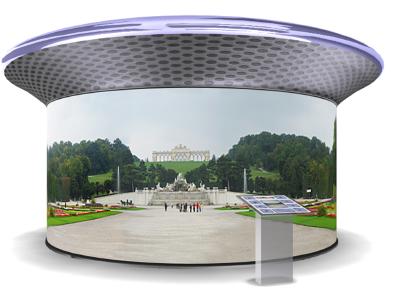 Tholos Systems
, creators of the circular screens, have approached the Greater London Authority and the
Saatchi Gallery
to locate an installation at
County Hall
, where its backdrop would be the Houses of Parliament.
Designers of the wrap-around screen, named Tholos after a type of circular temple in ancient Greece, propose to launch a connection between the two capitals by next June, according to the Sunday Times.
Other locations being considered for the screens, which are 10ft high and 23ft in circumference, include Trafalgar Square, Parliament Square and a site near Tower Bridge.
Viewers in London will see a wrap-around picture of the scene in Vienna. A microphone and speaker system will allow passers-by in the Austrian capital to talk to people in London "as if they are meeting up in the same town square".
Some fear that the screens, like David Blaine's endurance stunt in Potters Fields, could become a magnet for anti-social behaviour.