Hundreds of Santas descended on Bankside on Saturday as part of Santacon 2003, an annual convention of those seeking the "furtherance of Santa-ing, the celebration of being Santa and the Santa way".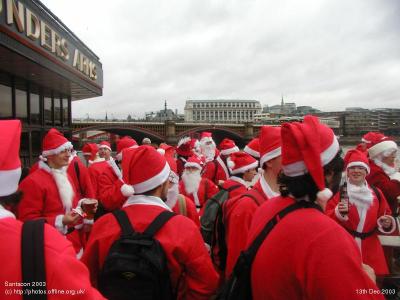 Founders Arms">
Santas gather at the Founders Arms on Saturday lunchtime
(photo: © photos.offline.org.uk)
A red outfit and hat was compulsory for all participants, including photographers and reporters.

Santas visit the Weather Project in Tate Modern's Turbine Hall
(photo: © photos.offline.org.uk)
The route took the Santas along the South Bank and across the Golden Jubilee footbridges at Hungerford Bridge to Trafalgar Square and on to the West End.