The World Youth Day Cross was on display in SE1 for two hours during its UK tour.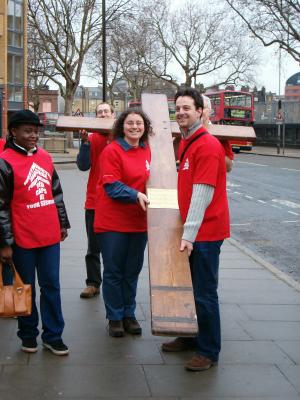 The Cross, presented by the Pope in 1984 to "young people of the world", was carried into Southwark's St George's Cathedral by representatives of Switzerland and the Diocese of Arundel and Brighton.
Southwark teenagers due to attend next year's World Youth Day events in Germany received the Cross on behalf of Southwark and London. The welcome included a display by a dance troupe.
Commenting on the Cross passing from one continent to another, the Pope has said that in Jesus Christ there are no divisions, no ethnic rivalry, no social discrimination. "All are brothers and sisters in the family of God."
The Cross was later carried in procession to Westminster Abbey and formally handed to Westminster at Westminster Cathedral. In the evening the Cross arrived in Brentwood.