Police are appealing for witnesses to a stabbing at a Bankside pub that could have been life threatening, but for a fraction of a millimetre.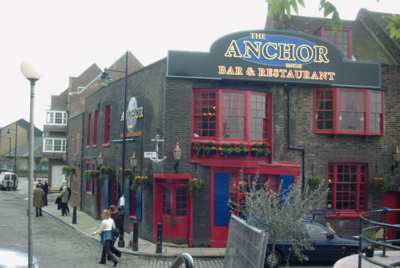 It occurred at the Anchor Bankside pub in Park Street at about 11.30 pm on Tuesday 6 January.
A group of youths approached a 24-year-old man and his friend as they were drinking in the pub and started up a conversation. One of the group suddenly leaned over and grabbed the chain from the neck of the 24-year-old man. Others in the group punched him about the face and stole his mobile phone.
As the victim struggled with his attackers, he was stabbed in the back.
His friend, a 30 year old man, was also assaulted during the struggle but did not require hospital treatment.
The victim was taken to a local hospital where his condition is now believed to be stable.
DC Paul Edwards of Walworth CID said: "It is a miracle the victim survived such a vicious attack. The doctors tell us: a fraction of a millimetre and it could have been very serious.
"The pub is a very popular venue and I'm sure there would have been several people still around at that time who may have seen something of the incident, or seen the suspects arriving or leaving the area.
"The group of suspects consisted of mainly male black teenagers, aged between 17 and 20. There were about three girls following close behind them but we do not know if they were involved in the incident."
Officers are viewing CCTV images taken from the area.
Anyone with any information should contact Walworth CID on 020 7232 6166 or call Crimestoppers on 0800 555 111.