Romanian-born sculptor Constantin Brancusi, encouraged by Rodin, went on to inspire Barbara Hepworth and Carl Andre.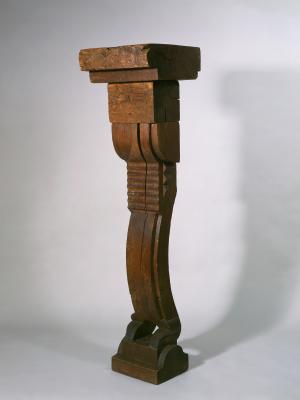 Caryatid II 1914/26,, Wood, Fogg Art Museum, © ADAGP, Paris and DACS London 2004
Although Brancusi died almost fifty years ago, Tate Modern's exhibition The Essence of Things is the first UK exhibition dedicated to his work.
The early rooms appear to be displaying a collection of carefully guarded ostrich eggs. These are his single heads which in 1908 were ground breaking. This is also the date of the stone Kiss, depicting two figures embracing, shown alongside limestone The Kiss created a decade later.


Sleeping Muse 1909-10, Marble, Hirshhorn Museum and Sculpture Garden, © ADAGP, Paris and DACS London 2004
The controversial piece is Princess X which was banned in 1916 as it was thought to suggest a penis. There is a story that Brancusi's art was so minimalist that a piece was rejected by US Customs on the grounds that it could not be art. After
Tate Modern
, this exhibition goes to New York. It is the simplicity of work produced a century ago and before the First World War which makes this show so important.
Later in Life he looked back to the WWI years by producing a war memorial for his home town in Romania. It has three parts, to link earth to heaven, and includes The Gate of the Kiss.
• Constantin Brancusi: The Essence of Things is at Tate Modern until Sunday 23 May; admission £8 (conc £6).